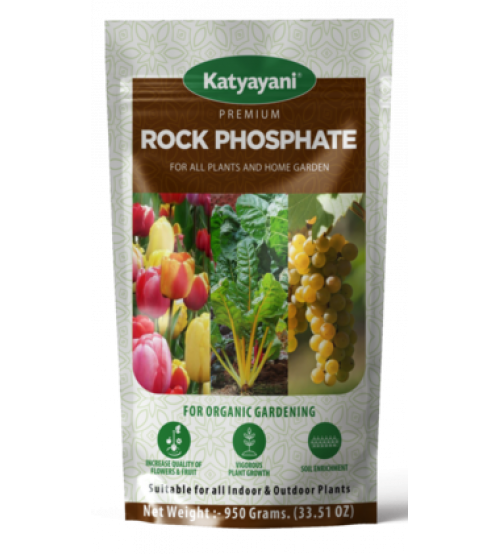 Katyayani Rock Phosphate 950 grams
Brand: Katyayani Organics
Categories: Bio Products, Bio Fertilizer,
Availability: In Stock
Cash on delivery Availability: NO
Price:
Rs 750.00
Rs 225.00
Katyayani Rock Phosphate 950 grams
Description:
It also increases carbon accumulation which in turn improves soil quality

Rock Phosphate improves electromagnetism in soil. This property is imparted to the soil as a resistance to erosion.

Rich source of Nutrients Very helpful in fruiting and flowering plants. Helps in improving the soil structure and water-holding capacity. All natural and organic Phosphorite, phosphate rock, or rock phosphate is a non-detrital sedimentary rock that contains high amounts of phosphate minerals. Additional Benefits Rock Phosphate is a natural source of phosphorus, it avoids the use of inorganic fertilizers

It is a blend of rock powders, biostimulants, carbons, and live microbes.

How to Use:
For ground plants or raised beds start with 1 tablespoon per plant, preferably in its growing stage, and then two tablespoons after 15 days. Or 10 gm per liter of water.

Nett. weight: 950 grams

Manufactured, Marketed & Dispatched by: Katyayani Organics