Bud Neo - Fertilizer Balls (Pack of 24 Balls)

Description:
BUD Neo is a Fertilizer blend, which means it has multiple carefully selected natural ingredients.

Key Features of BUD Neo:
Easy to use; Simple usage drop and relax. You only need to place BUD near the plant and relax no digging, pushing and dirtying your hands required.
Feeds long, reaaaaally long; BUD with its unique formulation feeds your plant for up to 33% longer than ordinary fertilizers.
Just one is enough; Whether your plant is in a 5-inch pot or 25-inch pot, just one bud is all it takes to feed it.
Trust it, its Indian; Trust the power of Indian heritage, safe enough for your children to handle and learn the art of fertilizing plants.
Every plant, every season; BUD works for all plants in all seasons. Trust us we have successfully tested Bud in blistering summer heat of 45 deg Celsius in Kutch.
Assured outcomes:
Your plant is supplied with all essential nutrients and your plant stays healthy.

No further expenses on fertilizer be it for primary, secondary or micro nutrients, BUD has it all.

Time saved, easy to use and practically no efforts product.

Easy to store, actually you do not even need to store. BUD is an exact dosage product and it is easy to calculate the quantity beforehand.

Increased water retention. Bud can retain 65% of its weight in water. For your plant it means, if BUD is buried near the plant it can also act as source of stored water.

Increase in organic content of soil, promotes healthy soil micro environment. BUD Neo is a Fertilizer blend, which means it has multiple carefully selected natural ingredients. These ingredients also serve as food source for soil dwelling organisms, thus increasing the population of soil organisms who in return bring long term benefits to your soil.
Nutritional Analysis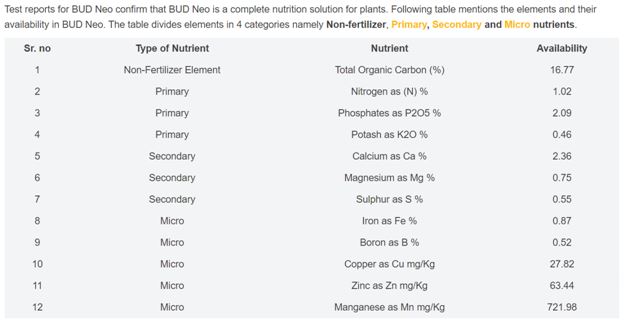 How to use
Just drop one Ball in each pot (we have taken an average size of pot to be 12″) it can also be used with plants/trees planted in soil. You may have to increase the number of balls depending upon the size of the plant. Water your plants as usual.