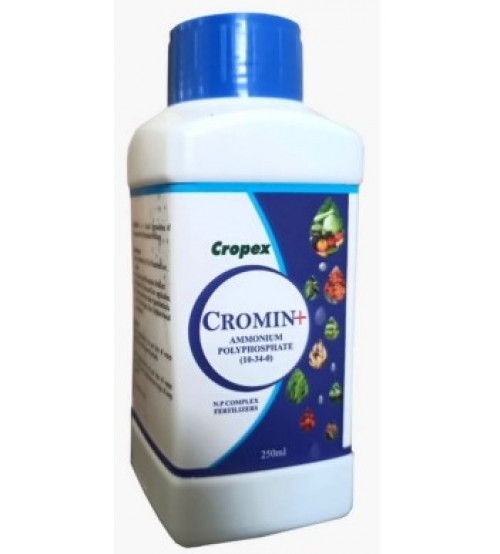 CROMIN+ - Ammonium Polyphosphate 10-34-0 500 ml
Brand: Cropex
Categories: Bio Products, Bio Fertilizer,
Availability: In Stock
Cash on delivery Availability: NO
Price:
Rs 570.00
Rs 429.00
CROMIN+ - Ammonium Polyphosphate 10-34-0 500 ml
NPK Liquid
Bio Fertilizer
500 ml Bottle packing

Benefits:
The bioavailability of N & P nutrients are higher.

Excellent liquid phosphatic fertilizer.

Suitable for foliar & root application.

It can be mixed with other agrochemicals other than Copper, Zinc, and Sulphate based compounds.

It is used for all crops.

Composition:
Total Nitrogen (all as ammoniacal nitrogen)% by weight (min): 10.0%
Total Phosphorus (as P2O5 ) % by weight (min.): 34.0%
Poly Phosphorus (as P2O5) % by weight (min.): 22.0%

Dosage:
Foliar Spray: 5 ml per litre of water
Root Application: 10 ml per litre of water during the early establishment stage of crop growth.

Nett. Vol.: 500 ml

Manufactured, Marketed, and Dispatched by: Cropex Limited