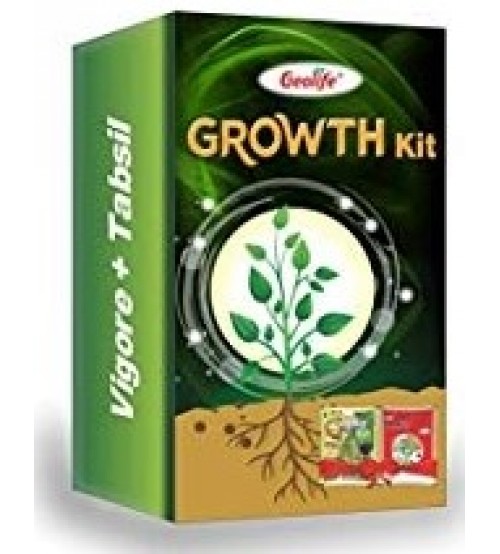 Geolife Growth Kit (Vigore 250 grams + Tabsil 200 grams)
Brand: Geolife Agritech India Pvt. Ltd.
Categories: Bio Products, Plant Growth Promoter, Bio Fertilizer,
Availability: In Stock
Cash on delivery Availability: NO
Price:
Rs 1,654.00
Rs 1,349.00
Geolife Growth Kit (Vigore 250 grams + Tabsil 200 grams)
Description:
Vigore is a concentrated product for complete plant development from root to the shoot increases immunity & works efficiently in all crops.

It increase yield & quality to optimum level. Visible difference can be seen at all stages of crop & also it is suitable for organic cultivation.Suitable for All Crops.

An exclusive product for increasing the agricultural productivity both in qualitative and quantitative aspect. It aims to replenish the global food scarcity by increasing crop production in the available land.

Tabsil contains Highest percentage of ortho silicic acid. It is in Silicate Effervescent Tablet Form

Frequent use of Tabsil FA gives immunity to the plant and hence reduces the chemical sprays which leads to residue free production.Tabsil Accumulation on leaf surface limit fungal & insect penetration by acting physical barrier.
Application Method for Vigore:
Crop
Stage
Dilution
Application

All crops

After sowing or Transplant

-

Soil application/ Drip irrigation

Active vegetative stage

1:800

Foliar application
Application Method for Tabsil:
Crop
Crop Stage
Dosage
Application
All crops (vegetable, cereals, pulses, fruits )
Vegetative stage
1 gram / litre of water
Foliar
500 grams / acre
Drip and Drenching
Rice Crop
Booting stage
1 Kg / acre
Broadcasting
Nett weight: 450 grams