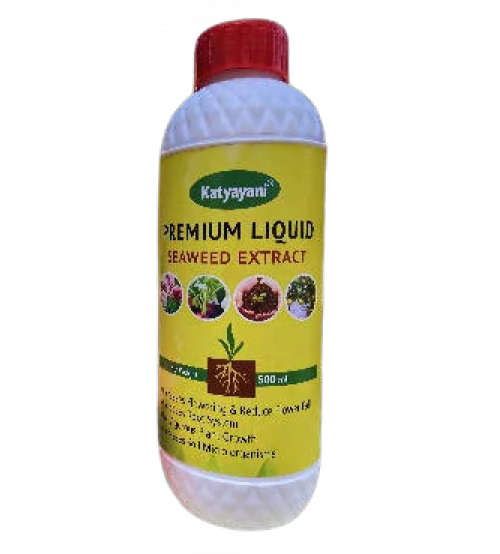 Katyayani Seaweed Extract 1 litre
Brand: Katyayani Organics
Categories: Bio Products, Plant Growth Promoter,
Availability: In Stock
Cash on delivery Availability: NO
This product has a minimum order quantity of 10
Katyayani Seaweed Extract 1 litre
Plant Growth Promoter
1 litre Bottle Packing
Bio Products
Description:
It is derived from Ascophyllum nodosum, the most researched seaweed species for agriculture use in world

Seaweed Extract is produced using unique proprietary process technologies that liberate the active compounds in their most uncompromised and active state

Application of Seaweed Extract throughout the season improves desirable yields, root growth and early plant development, nutrient uptake, and aid in stress resistance and recovery.

INCREASE GROWTH: Improves seed germination and increases root growth development. Hence producing quality flowers and tasty fruits.

BALANCE NUTRITION: Promotes balanced growth of plants and increases bloom set and size of flowers & fruits. It contains Nitrogen, Potassium, Phosphorus that is required by plant growth, and chelating trace elements like Calcium, Magnesium, Zinc, Boron, Molybdenum, etc. which supply all nutrition in balance.

ENRICHMENT of SOIL: Recommended to use for all crop plants, Fruits, vegetable liquid solution has Excellent Results for Gardening & Potting Use for Plant, Fruits, vegetables, flowers. Liquid concentrate solution has easier application than dry or kelp seaweed.

Nett. Volume: 1 Litre

Manufactured, Marketed, and Dispatched by: Katyayani Organics