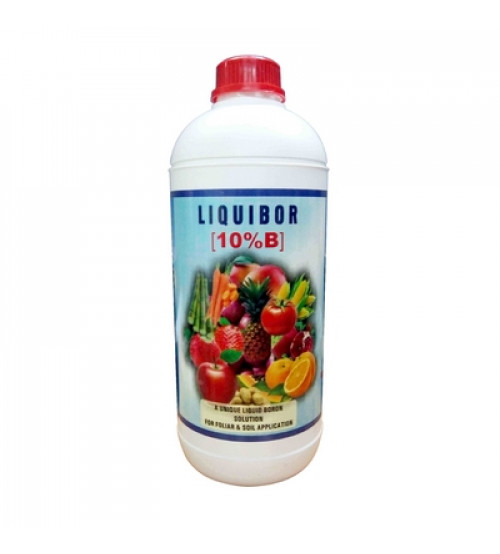 Liquibor (Liquid Boron Solution - 10% B) 500 ml
Brand: Gassin Pierre Pvt. Ltd.
Categories: Bio Products, Bio Fertilizer,
Availability: In Stock
Cash on delivery Availability: NO
Price:
Rs 865.00
Rs 800.00
Liquibor (Liquid Boron Solution - 10% B) 500 ml
Product Description:
LIQUIBOR provides Boron for effective maintenance of Boron levels in Plant tissues or for rapid correction of Boron Deficiencies in deficient crops.

LIQUIBOR is a unique stabilizing agent and can be directly applied to foliage or soil.

It is compatible with most agricultural chemicals.

Foliar application of Boron is more efficient than soil application because the former avoids the formation of complex soil borates.

LIQUIBOR is normal water soluble and rapidly absorbed by the foliage and utilized by the plant. Frequent foliar applications of small amounts are more effective than larger infrequent treatments.
GUARANTEED ANALYSIS: Boron: 10%

CROP:
Mango, Grapes, Banana, Citrus

Potatoes, Onions, Turnips, Carrots, Tomato, Beans

Paddy, Maize, Wheat.

Ornamental & Aquatic plants.

RECOMMENDED DOSE:
Vegetables – 0.5L/ Ha, Fruits – 0.5L- 0.75L/ Ha, Field Crops – 0.5L/ Ha, Others – 0.5L/Ha

TIME OF APPLICATION: Prior to Flower or Fruit Formation

WARRANTY: Since the use of this product is beyond our control we cannot assume and any responsibility other than uniform quality of the product.
CAUTION: Harmful if swallowed. Avoid breathing the spray-mist. Avoid contact with eyes, skin or clothing.
Keep out of reach of children.
Net Volume: 500 ml

Manufactured, Packed & Dispatched by: Gassin Pierre Pvt. Ltd.