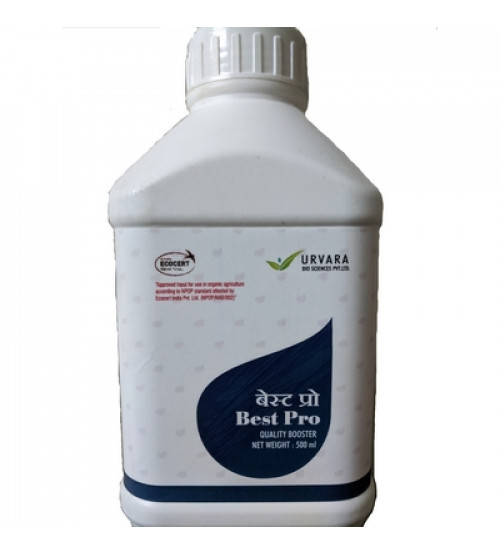 Best Pro - Quality Booster 1 Litre
Brand: Urvara Biosciences Pvt. Ltd.
Categories: Certified Organic Products, Plant Growth Stimulator,
Availability: In Stock
Cash on delivery Availability: NO
Price:
Rs 968.00
Rs 775.00
Best Pro - Quality Booster 1 Litre
Click here to see Organic Certificates of Urvara Biosciences Pvt. Ltd.

Description:
Best pro is a 100% organic flowering stimulant that reduces flower and fruit drop and helps in uniform growth of fruits. It promotes plant health and helps it overcome stress factors to prevent or lower the rate of flower and fruit drops. It also helps in all round development of fruits in terms of taste, size, and flavour all by naturally assisting the plants.

Dosage: To be give as foliar spray before and after 15 days of flowering at the rate of 3 ml/Ltr of water, preferably during morning or late evening.

Directions of usage:
Preferably use spreader/sticker to prevent roll off from plant surface.

Close the container tightly after use and store in ambient temperature place away from heat and sunlight.

Precautions: Use masks to prevent breathing of aerosols. Use gloves when handling product. If one comes in contact directly with product then wash with plenty of water and soap. Mild irritation may be there. Consult Dr immediately for symptomatic treatment.

Net Volume: 1 Litre

Manufactured by: Urvara Marketing Solutions Pvt. Ltd.

Marketed by: Urvara Biosciences Pvt. Ltd.