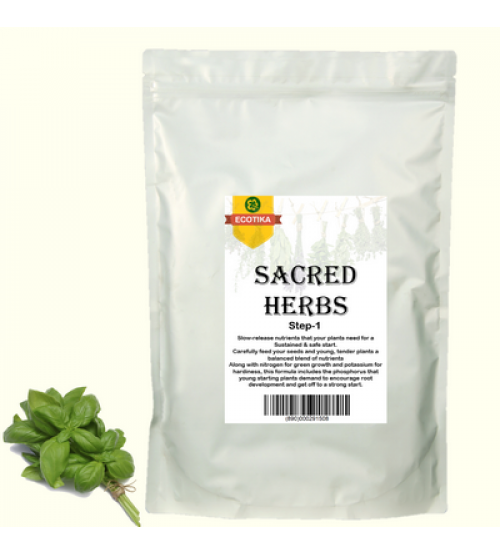 Sacred Herbs Step-1 Seed Starter Mix 1 Kg
Brand: Ecotika
Categories: Bio Products, Plant Growth Promoter, Bio Fertilizer,
Availability: In Stock
Cash on delivery Availability: NO
Sacred Herbs Step-1 Seed Starter Mix 1 Kg
Description:
Sustained release nutrients that your plants need for a fast, sustained and safe start
Carefully feed your seeds and young, tender plants a balanced blend of nutrients. Along with nitrogen for green growth and potassium for hardiness, this formula includes the phosphorus that young starting plants demand to encourage root development and get off to a strong start. Ecotika's Sacred herbs Seed Starter contains natural plant based and mineral ingredients that will not burn or harm immature plants, and also help you get a pathogen free product. Once plants are established, switch to Sacred Herbs Growth Promoter to encourage the next phase of growth.

Dosage of Sacred Herbs Seed Starter: 1/2 cup to 1 cup (20 to 40 Grams) in 5 kg of soil
Application: Mix evenly in soil one week prior to planting of seeds. This helps to assimilate the product in soil.

Net Weight: 1 Kg

Manufactured, Packed & Dispatched by: Ecotika