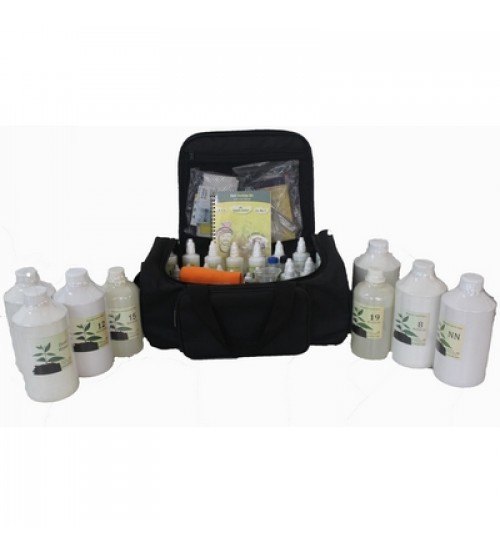 Soil Testing Kit 20 Tests 9 Parameters
Soil Testing Kit 20 Tests

9 Parameters

Description:
This easy to use kit helps in providing an index of nutrient availability or supply in the soil and the basis of fertilizer recommendation for a given crop thereof. Unnecessary application of excess fertilizer can be avoided.


Features of Kit:
Simple & User Friendly

Accurate

Economical

Tests for primary and secondary nutrients Compact & Portable

Instant: It can test Maximum (9 parameters) within an hour

It can test 20 samples
Why test soil?
To provide an index of nutrient availability or supply in a given soil

To predict the probability of obtaining a profitable response to fertilizer application.

To provide a basis for fertilizer recommendations for a given crop.

To evaluate the fertility status of the soil and plan a nutrient management program.
Advantages of Kit:
Ease of use: No special training required.

On field testing: Save time and cost for transporting samples and results to and from the testing agency

Get instant results: Apply fertilizers accordingly

Has a long , stable shelf life
Specification:
S No.
Parameters
Method/Principle
Range
pH

Universal
indicator/Colour
comparison

a) 4.0 to 6.0 &
b) 6.0 to 10.0
Organic Carbon

Walkley-
Black/Colour
Comparison

<0.5% , 0.5-0.75%,
>0.75%
(low, medium, high)

3

Nitrate Nitrogen (NO3-N)


DPAS/ Colour
comparison

0.0 to 20 kgs/acre
(low,
medium, high)

4

Ammonical Nitrogen

Nessler/ colour
comparison


(NH4-N) 0.0 to >50.0 kgs/acre

5

Available Phosphorous (P2O5)

Olsen/Colour
comparison


0.0 to >40.0 kgs/acre

6

Available Potassium (K2O)

Olsen/Colour
comparison

0.0 to >180 kgs/acre

7

Magnesium (MgO)

Color Comparison

Low, Medium, High

8

Calcium(Free lime content CaO)

0.0 to >4.0%

9

Available Sulphur (SO4-S)
(Optional)


0.0 to 40.0 kgs/acre
Click here to see video of Product.