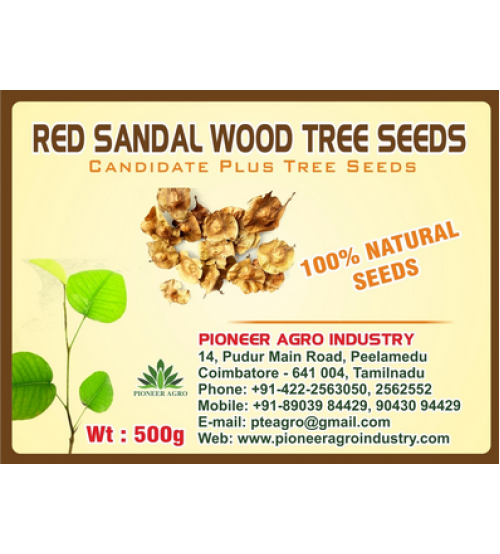 Red Sandal Wood / Lal Chandan Tree Seed 1 Kg
Brand: Pioneer Agro Industry
Categories: Seeds, Tree Seeds,
Availability: In Stock
Cash on delivery Availability: NO
Price:
Rs 1,200.00
Rs 1,039.00
Red Sandal Wood / Lal Chandan Tree Seed 1 Kg
Common Name: Red Sanders
Description:
Red Sandalwood is a native and endemic to India and can only be found in the southern parts of the Eastern Ghats. It is a small tree that grows to 5-8 meters in height and has a dark grayish bark. Red Sandalwood timber is used for carvings, furniture, poles, and house posts.

Seed Standardization Report:
Flowering Season: May – Jun

Fruiting Season: June – December

No. of Seeds per kg: 1200

Germination Capacity: 25%

Time Taken for Initial Germination: 15 days

Time Taken for Germination Capacity: 45 days

Germinative Energy: 15%

Plant Percentage: 20%

Purity Percentage: 100%

Moisture Percentage: 8%

No. of Seedling per Kg: 240

Viability: 2 years

Pretreatments Recommended: Soak seeds in cow dung slurry for 24 hours before sowing.
Click here to see Guarantee / Warranty of this Product.