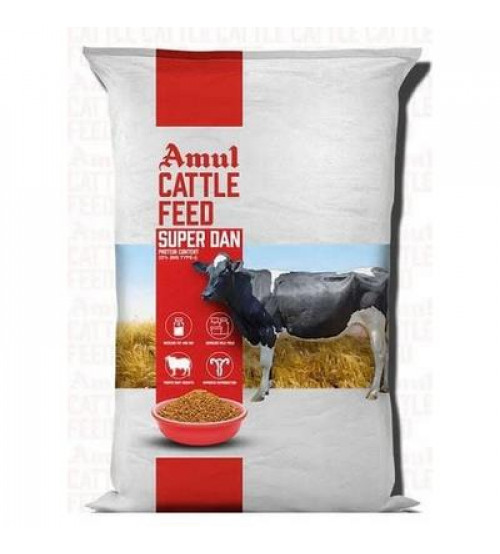 Amul Super Dan Cattle Feed 50 Kg (Madhya Pradesh)
This rate is Ex-Factory Madhya Pradesh. Transportation will be extra.
Brand: Amul Cattle Feed
Categories: Cattle Care, Cattle Feed,
Availability: In Stock
Cash on delivery Availability: NO
This product has a minimum order quantity of 200
Amul Super Dan BIS TYPE-I Cattle Feed 50 Kg (Ex-Factory Indore, Madhya Pradesh)
Description:
For milking animals producing 15 Litre per day or more milk

Feature:
Total digestible nutrients (T.O.N) is more than 70%

Cattle feed with 22% protein and 4% fat

Out of 22% Protein 13% is By pass Protein

Contains source that releases nitrogen slowly in rumen

Included Ayurvedic supplements improve appetite and increase milk production

Best cattle feed for cows/buffalos having 15 litres and above milk production per day.
Application:
Cow- 1 Kg for body maintenance and 300 gram for each litre of milk produced.

Buffalo- 1.2 Kg for body maintenance and 350 gram for each litre of milk produced

Or as per advice of Veterinarian / Animal Nutritionist



Packaging: 50 Kg HOPE Bag

Note:
This rate is the Ex-factory of Indore (Madhya Pradesh). The loading, unloading and transportation charges will be extra and to be paid by customer before final dispatch.
This product is also manufactured in Khanna (Punjab), Erode (Tamilnadu), Kanjari (Gujarat), and Ahmednagar (Maharashtra) which are listed here on this portal as separate products.
You are adviced to order appropriate product after checking your nearest manufacturing unit.
You have to order product according to your nearest state to save the transportation cost.