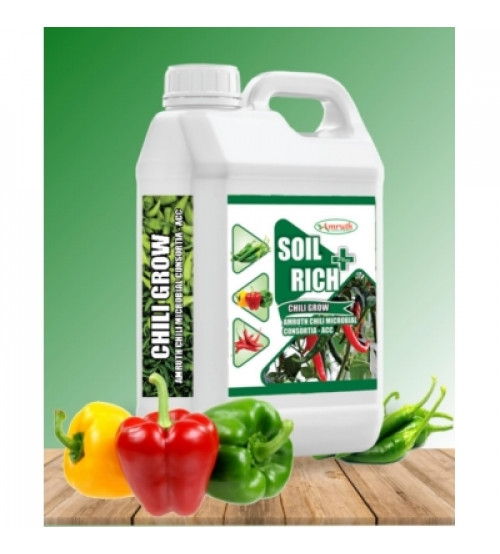 Chilli Grow - Chilli Microbial Consortia (ACC) 5 Litre
Brand: Amruth Organic Fertilizers
Categories: Fertilizers, Micronutrients,
Availability: In Stock
Cash on delivery Availability: NO
Price:
Rs 2,375.00
Rs 2,345.00
Chilli Grow - Chilli Microbial Consortia (ACC) 5 Litre
Description:
AMRUTH CHILI GROW consists of plant growth promoting microorganisms for Nitrogen fixation, Phosphate Solubilization, Potash and Zinc Mobilization.

Benefits
AMRUTH CHILI GROW is essential for plant growth and development.

AMRUTH CHILI GROW improves soil fertility, increases the photosynthetic activity and crop yield.

AMRUTH CHILI GROW avoid dropping of chili flowers and helps to maintain fruit keeping quality and pungency in chili.

Due to all the above mentioned beneficial factors the crop yield will increase by 10-20%.
Application On Crops
Root treatment:- Mix 50-100 ml of AMRUTH CHILI GROW in 1 litre of water and dip the seedlings up to 20 minutes.

Soil treatment:- Apply 5 litres of AMRUTH CHILI GROW for 1 acre through drip.

Mix 5 litres of AMRUTH CHILI GROW with 300-400 kg
Nett Volume: 5 Litre (Can)

Manufactured, Packed & Dispatched By: Amruth Organic Fertilizers



Click here to see Guarantee / Warranty of this Product.