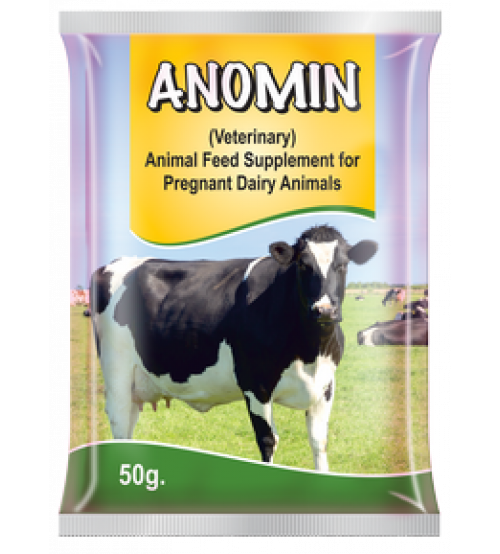 Amul Anomin Anionic Mineral Mixture 50 grams x 20 Pouches x 5 Units
Brand: Amul Cattle Feed
Categories: Cattle Care, Mineral Mixture,
Availability: In Stock
Cash on delivery Availability: NO
Price:
Rs 1,500.00
Rs 1,499.00
Amul Anomin Anionic Mineral Mixture 50 grams x 20 Pouches x 5 Units
SAP Material code: DANMMA01
Description:
Benefits:
Creates temporary metabolic acidosis in animal body which helps in utilization of calcium from animal body.

Fortified with Vitamin E which helps in immunity improvement during transition period.

Fortified with Vitamin D3 which helps in better utilization of calcium and phosphorus.

Reduce the chances of metabolic disorders like milk fever, ROP, lactation tetany, udder development, increase milk production in next lactation etc.

Helps in easy parturition

Use 100 grams Anomin powder, 2 to 3 weeks before the expected date of calving

Nutritional composition:
Exclusive mixture of Anions to optimize the calcium and phosphorus metabolism.

Feeding Schedule (per day):
Cattle and Buffaloes: 100 grams daily - 50 grams moening and evening (2 to 3 weeks before the expected date calving)

Note: ​Dispatch from the Amul Plant takes 3-4 days after the date of purchase.