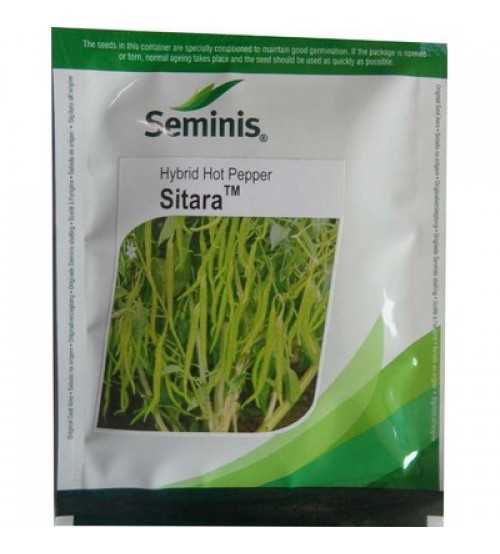 Chilli / Hot Pepper SITARA
Brand: Seminis / Monsanto
Categories: Seeds, Vegetable Seeds,
Availability: In Stock
Cash on delivery Availability: NO
Price:
Rs 490.00
Rs 369.00
This product has a minimum order quantity of 10
Chilli / Hot Pepper SITARA

Product Details
Fruit Colour
Light green
Fruit Shape
Cylindrical
Plant Type
Vigorous, dense and robustge
Related Maturity / Picking
60 - 70 DAT
Fruit Size
Length: 15 to 16cm
Diameter: 1.1 to 1.2 cm
Fruit Shape / Skin
Little rough
Seed Rate
60 -80 gram / acre
Sowing Season
June-September, November-February
Sowing Method
Transplanting
Sowing Spacing
R-R : 5 ft, P-P : 1 ft
Nett Quantity in 1 Packet: 10 grams.
Requires 4 Pkts in 1 Bingha(25,000 Sq. Ft.)
Expiry Date: 21/08/2020
Seeds Produced by: Monsanto Holdings Private Limited


Click here to see Guarantee / Warranty of this Product.