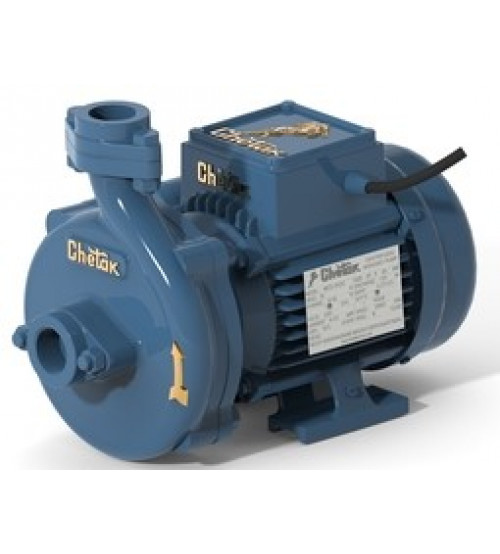 Chetak Centrifugal Monoblock Pump 3.00 HP 65x50 MCS-324
Price:
Rs 21,240.00
Rs 17,699.00
Chetak Three Phase Centrifugal Monoblock Pump M Series 3.00 HP 65x50 MCS-324
Description:
Chetak 3.00 HP Three Phase MCS-324 Centrifugal pumps are typically used to pump liquids and fluids. They are designed to handle a wide range of liquids including corrosive abrasive and viscous liquids. The centrifugal pump operates by pumping liquid from the inlet side of the pump to the discharge side. The centrifugal pump consists of a rotating part called impeller and a stationary part called volute casing or diffuser. Centrifugal pumps can be classified based on the number of impellers present in the pump and their design. Single-stage centrifugal pumps have one impeller while two-stage centrifugal pumps have two impellers. These are further classified based on whether they are axial or radial flow designs or as mixed flow designs. A single stage axial flow centrifugal pump has an impeller that rotates inside an open casing without any vanes or blades on it while a single stage radial flow centrifugal pump has an impeller with vanes that are attached at its outer edge. The centrifugal pump is a positive displacement pump and is commonly used in water treatment chemical and oilgas industries. It has many advantages as compared to other types of pumps The centrifugal pump is designed to move liquid at high pressure using centrifugal force to increase flow velocity and create pressure at the outlet of the pump. Centrifugal pumps are widely used in industrial applications such as water supply systems domestic water treatment plants and process industries such as sewage treatment plants and chemical factories.

Features:
Good suction lift characteristics.

Specially designed for wide voltage operation.

Dynamically balanced rotating parts including the rotor and impeller ensure minimum vibration and longer life.

Double shielded ball bearings, so there is no need for external lubrication.

The electric rotor is pressure die-cast and uses electric-grade aluminum.

Better insulating materials are used so that the pump set can withstand high-temperature rise.

Volute, Impeller, Adaptor, Stator body, and Endshield are made of close-grained cast iron of high tensile strength and have a very smooth surface finish resulting in low friction losses.

Superior mechanical seal for longer life and effective sealing against water leakage.

The laminations are non-oriented silicon steel.
Application:
Sprinkler and Drip Irrigation System

Domestic & Industrial Water Supply

Gardens & Nurseries
Technical Specification:
Power: 3.00 HP (2.2 kW)

Suction & Delivery (mm): 65x50

Voltage: 170-350V
Head Range: Upto 32 meters

Discharge Range: Upto 16 lps ( 57.6 m /hr)

Power Ratings: 0.37 kW to 2.2 kW

Insulation: B class

Protection: IP 44

Max. suction lift: 7 meters

Max. ambient temperature : 40°C

Type of duty: S1 (Continuous)
Material of Construction:
Impeller: Graded Cast Iron / Engineering Glass Filled Noryl

Pump Casing: Graded Cast Iron

Rear Cover / Bracket: Graded Cast Iron

Motor Body: Graded Cast Iron

Shaft: Stainless Steel

Sealing: Mechanical Seal

Pumped Liquids:
Clean, thin, non-aggressive, nonexplosive, clear, cold, fresh water without abrasives & solid particles.


Guarantee/ Warranty:
One-year Standard Carry-in Warranty as per the manufacturer's norms and as per the Instruction- manual supplied with each product. Warranty for more than one year is also available in case of Specific Tenders' requirements & Project Orders.
Carry-in Warranty means the customer will have to bring the product to the nearest service- center at his own cost and when repaired the same to be taken back from the Service Centre. It is highly recommended to use Chetak Genuine Spares for better performance and extended product life.
You can contact the All-India Customer-care Number: 7041470414 (9 am to 6 pm) or contact Customer-care email ID: [email protected] & cc to: [email protected]


Manufactured, Marketed, and Dispatched by: Sardhara Engine Manufacturers (Chetak)