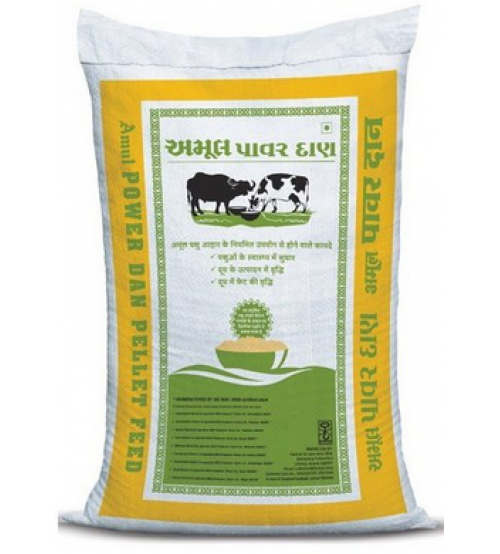 Amul Power Dan Cattle Feed 25 Kg (West Bengal)
This rate is Ex-Factory West Bengal. Transportation will be extra.
Brand: Amul Cattle Feed
Categories: Cattle Care, Cattle Feed,
Availability: In Stock
Cash on delivery Availability: NO
Price:
Rs 821.00
Rs 499.00
This product has a minimum order quantity of 400
Amul Power Dan BIS TYPE-II Cattle Feed 25 Kg (Ex-Factory Jayrambati, West Bengal)
Description:
Amul Power Dan is best suitable for cattle giving 8 to 15 liter milk /day. It is made up with all careful consideration of various types of grains, and quality additives. It is a feed without Guar in the formulation. Well accepted by all types of animals as did not have any bitter smell of guar. Urea free but added slow releasing source of Nitrogen for better utilization of dietary fibers by rumen microbes. Vitamin and minerals are also added for improving production potentials of the animal.

Product Specification:
Crude Protein: 20% min
Crude Fiber: 12% max
Crude Fat: 2.5 %
Silica: 4%
Packaging: 25 Kg HOPE Bag

Note:
This rate is the Ex-factory of Jayrambati (West Bengal). The loading, unloading and transportation charges will be extra and to be paid by customer before final dispatch.
This product is also manufactured in Erode (Tamilnadu), which is listed here on this portal as separate product.
You are adviced to order appropriate product after checking your nearest manufacturing unit.
You have to order product according to your nearest state to save the transportation cost.