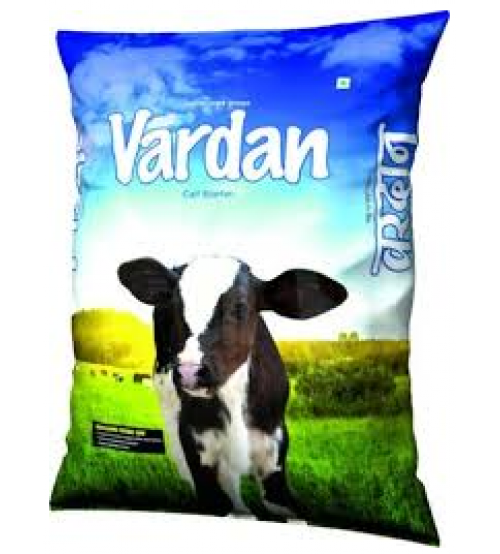 Amul Calf Feed 20 Kg (Punjab)
This rate is Ex-Factory Punjab. Transportation will be extra.
Brand: Amul Cattle Feed
Categories: Cattle Care, Cattle Feed,
Availability: In Stock
Cash on delivery Availability: NO
This product has a minimum order quantity of 500
Amul Calf Feed 20 Kg (Ex-Factory Khanna, Punjab)
Description:
For Calves above 2 Months

Feature:
Milk feeding can be stopped earlier.

Helps faster rumen development to digest green/dry fodder.

Helps in extra weight gain

Helps in early puberty and pregnancy.
Application:
Vardan Calf Starter can be started after attaining age of one month.

Start feeding calf starter with small quantity approx. 50 grams mixed withlittle quantity of water.

If calf consumes offered quantity then increase the quantity day by day to make it 200 grams at the end of month and increase quantity by 100 gramsevery month from 3-9 months.

Increase quantity by 200 grams in 10th and 11th months. From 12th to 15th months 2-4 Kg based on body weight.
Nutritional Composition:
| | |
| --- | --- |
| Parameters | Value (%) |
| Protein | 16-18 |
| Fat | 3-3.5 |
| Fibre | 5-6 |
| Minerals | 1.0 |
Packaging: 20 Kg HOPE Bag

Note:
This rate is the Ex-factory of Khanna (Punjab). The loading, unloading and transportation charges will be extra and to be paid by customer before final dispatch.
This product is also manufactured in Erode (Tamilnadu), and Kanjari (Gujarat) which is listed here on this portal as separate product.
You are adviced to order appropriate product after checking your nearest manufacturing unit.
You have to order product according to your nearest state to save the transportation cost.