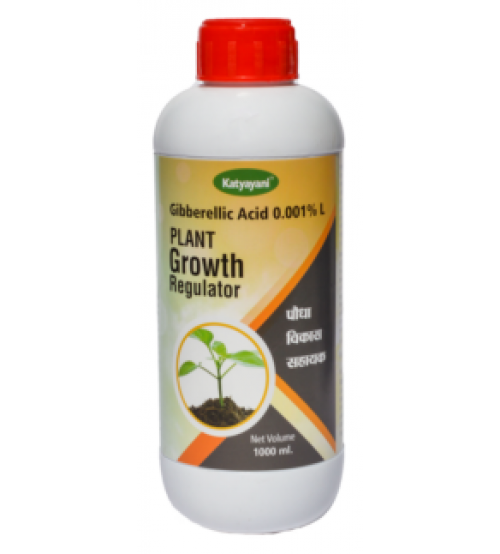 Katyayani Gibberellic Acid 0.001% L 1 litre
Brand: Katyayani Organics
Categories: Insecticides/Pesticides, Growth Regulators,
Availability: In Stock
Cash on delivery Availability: NO
Price:
Rs 930.00
Rs 545.00
Katyayani Gibberellic Acid 0.001% L 1 litre
Technical name: Gibberellic Acid 0.001% L
Description:
Katyayani Gibberellic Acid 0.001 % L is a Plant Growth Regulator. It is a Powerful Growth Stimulator for All Types of Plants and Home Garden like Paddy, Sugarcane, Cotton, Groundnut, Banana, Tomato, Potato, Cabbage, Cauliflower, Grape, Brinjal, Bhindi, Tea, and Mulberry & Others Spray Fertilizer.

Features:
Katyayani Gibberellic acid is a metabolic enhancer which stimulates & regulates plant growth it enhances photosynthesis and plant metabolism thus, increases cell growth in stems, leaves and roots, reduces flower and fruit dropping and enhances quality of produce and thus boost crop yields.

Overcoming Dormancy: Treatment of seeds / tubers before sowing with Gibberellic acid is effective in overcoming dormancy and causing rapid germination of seed.it Prevents Premature Flowering enlarges fruit and boosts crop yields.

It delays aging of leaves. It allows the production of bigger leaves and root system. It improves micronutrients and water uptake through root initiation and development. Improve establishment and growth of young plants produced from cuttings, seed or plugs.

Dosage:
General Dosage is 30 ml in 15 Liter water.
Nett. Vol.: 1 litre

Manufactured, Marketed & Dispatch by: Katyayani Organics
Click here to see Guarantee / Warranty of this Product