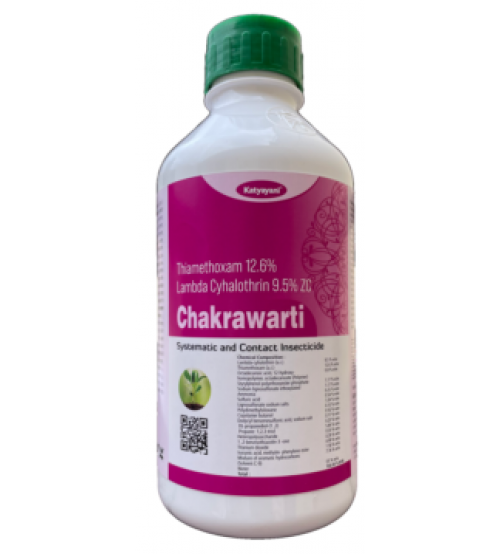 Katyayani Chakrawarti - Thiamethoxam 12.6% + Lambda cyhalothrin 9.5% ZC 250 ml
Brand: Katyayani Organics
Categories: Insecticides/Pesticides, Pesticides & Insecticides,
Availability: In Stock
Cash on delivery Availability: NO
Price:
Rs 950.00
Rs 336.00
This product has a minimum order quantity of 20
Katyayani Chakrawarti - Thiamethoxam 12.6% + Lambda cyhalothrin 9.5% ZC 250 ml
Technical: Thiamethoxam 12.6% + Lambda cyhalothrin 9.5% ZC
Substance group: Neonicotinoid and Pyrethroid
Product Type: Insecticide
Mode of action: systemic contact and stomach activity insecticide
Crops: All types of Field Crops And vegetables Specially Tomato, Grapes
Insect Pests: Sucking Pests, Thrips, Whitefly, Jassids
Introduction:
● Chemical Composition: Thiamethoxam 12.6% + Lambda Cyhalothrin 9.5% ZC Other Market Names for The Composition : Syngenta Alika ; HPM antkaal etc
● Its unique combination having dual mode of action controls ball worm aphid budworm flower feeder fruit borer gram pod borer hairy caterpillar leaf folder leaf webber pod borer potato tuber worm red ants semi looper tobacco
caterpillar fruit fly weevil Shootfly BPH Insects Hispa Hoppers tea mosquito bug Spilling Whitefly Food Shop GS Anar Butterfly excellent for Sucking insect like Jassids Aphids thrips whitefly etc
● New innovative formulation ZC (Mixture of CS and SC formulation) with synergistic effect making it a one-shot solution of sucking pest and Leaf eating caterpillars. It can be used all crops including Cotton Soybean Maize Groundnut Chilli Tea Tomato etc
● It works as systemic contact and stomach activity insecticide. It is absorbed rapidly by the roots and foliage.
● Suitable for both Agricultural Purposes & For home garden & Domestic Purposes Dose - 80 ml per acre. For home Garden Mix 2 ml Per Litre Water and Spray.
Recommendations from Central Insecticides Board & Registration Committee:
Crop
Common Name of the Pest
Dosage/ Hactare
Waiting Period (Days)
Formulation (gm/ ml)
Dilution in Water (Litre)
Cotton
Jassids, Aphids, Thrips, Bollworms
200
500
26
Maize
Aphid, Shoot fly, Stem borer
125
500
42
Groundnut
Leaf hopper, Leaf eating caterpillar
150
500
28
Soybean
Stem fly, Semilooper, Girdle beetle
125
500
48
Chilli
Thrips, Fruit borer
150
500
03
Tea
Tea mosquito bug, Thrips, Semilooper
150
400
01
Tomato
Thrips, Whiteflies & Fruit borer
125
500
05

Features & Benefits:
●IT is a broad-spectrum insecticide
●Unique combination with dual mode of action
●New innovative formulation ZC (Mixture of CS and SC formulation) with synergistic effect
●It belongs to the Neonicotinoid and Pyrethroid group of insecticides
●it solution of sucking pests and caterpillars
●It works as systemic, contact, and stomach activity insecticide
●It is absorbed rapidly by the roots and foliage
●It is translocated acropetally in the Xylem
●It gives quick knockdown and long residual control
●Being a ZC formulation it has good rain-fastness
●Promotes crop greening, more branches, and flower initiation
●Protect crop from viral disease by controlling insects which act as a vector
●Being a premix solution no need for tank mix
●It has no cross-resistance to conventional products
●More greenness and branching in the treated crop

Targeted Insects Bollworm, Aphids, Budworm, Flower feeder, Fruit borer, Gram pod borer, Hairy caterpillars, Leaf folder, Leaf Webber, pod borer, Potato tuber moth, Red ants, semi looper, Tobacco caterpillar, Fruit fly, Weevil, BPH, Bugs, Thrips, Hispa, Jassids, Hoppers, Spiralling Whitefly, Mealybugs, Anar butterfly

Marketed & Dispatched by: Katyayani Organics

Click here to see Guarantee / Warranty of this Product