Cabbage / Patta Gobi Saurabh (Namdhari)
Description:
Hybrid Type: Round Head Hybrid
Relative Days to maturity: 60-65
Plant Habit: Medium vigorous
Head Shape: Round to semi round
Head Weight: 1-1.5 Kg
Head Firmness: Very good
Core Length: Short
Foliage Colour: Dark bluish Green
Remarks: Compact head, very good fielding holding capacity
Nett Quantity in 1 Packet: 10 Grams.
Seeds Produced by: Namdhari Seeds Pvt. Ltd.
Click here to see Guarantee / Warranty of this Product.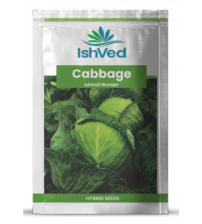 Rs 315.00
Rs 195.00
Min. Quantity: 5
Cabbage / Patta Gobi IVTMP-04 10 grams Description: Planting Depth: 1/4-1/2 inch Height: 12.....