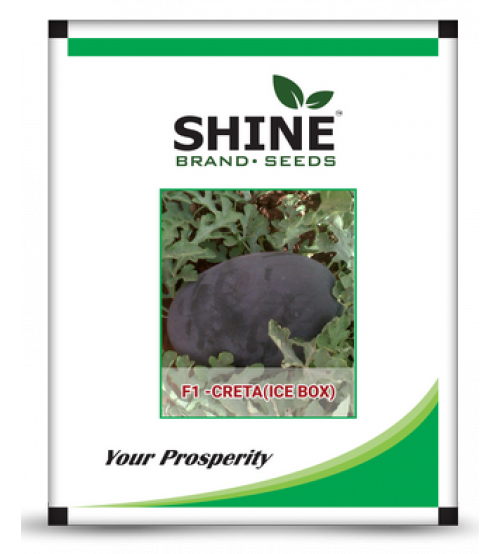 Watermelon Creta (Ice Box) 10 grams
Brand: Shine Brand Seeds
Categories: Seeds, Vegetable Seeds,
Availability: In Stock
Cash on delivery Availability: NO
Price:
Rs 625.00
Rs 449.00
Watermelon Creta (Ice Box) 10 grams
Description:
Shiny black skin color

Flesh color: Deep red

Fruit shape: Oblong

Fruit weight: 2.5 – 3.5 Kg

Maturity time: 85 – 90 days oblong size

Excellent yielding variety

Grow condition: Watermelons need a long growing season (at least 80 days) and warm ground for seeds to germinate and grow. Soil should be 70 degrees for warmer at planting time. Sow seeds 1 inch deep and keep well watered until germination.

Season: Kharif, Rabi, Summer

Seed rate: 250 - 300 grams / acre (1 acre = 43560 square feet)

Yield: Approximately 20 - 30 tonne (Maximum 25 tonne) / acre
Nett Quantity in 1 Packet: 10 grams.
Click here to see Guarantee / Warranty of this Product.