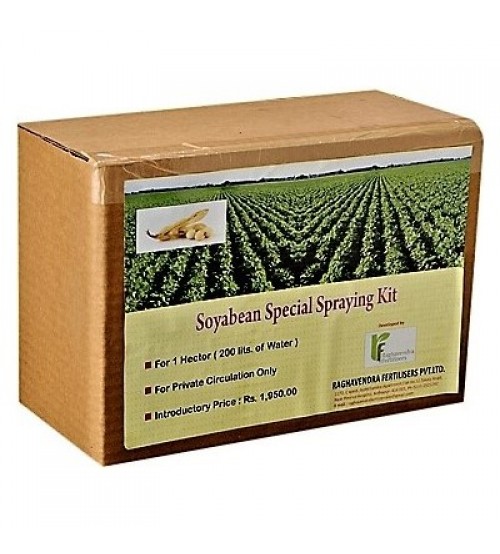 Vrundavan Soyabean Combo Kit
Brand: Raghavendra Fertilisers
Categories: Certified Organic Products, Bio Combo Kits,
Availability: In Stock
Cash on delivery Availability: NO
Price:
Rs 1,950.00
Rs 1,750.00
Vrundavan Soyabean Combo Kit
Product description:
For minimum 20 to 25 % assured yield increase in Soyabean, this is the best product, which is containing all the required ingredients for Soyabean growth, that too in just a Single Spray.

The Kit is designed for 1 Hectare (2.5 acres)

About 20 to 25 % assured yield increase when crop gets balanced nutrients and optimum geographical conditions.

Phosphate and Boron:

For Soyabean crop availability of Phosphate and Micronutrient Boron is very important for yield increase. We are providing water soluble Phosphate and Boron in adequate quantity in the kit

Silica: Silica is another important element for Soyabean crop. Development of white roots, uptake of Phosphate, number of tillers and Disease resistance power are the advantages of Silica availability. We are providing liquid silica compound in required quantity in this Kit.
Size and Growth Enhancer: For protein formation and size enhancement, Cytokinins is required. We are providing Cytokinin base Growth Promoter in the Kit for Size and Growth Enhancement.
Vrundavan CROP CHARGER: It contains Humic 55 %, Fulvic 7 %, Amino 8 % and Seaweed Extract 15 %. Major role is profuse root development, avoiding flower drop, improvement in photosynthesis and disease and pest control.
Dosage:
Mix the entire contents of the kit in 250 lit water and use the same for 1 Hector area