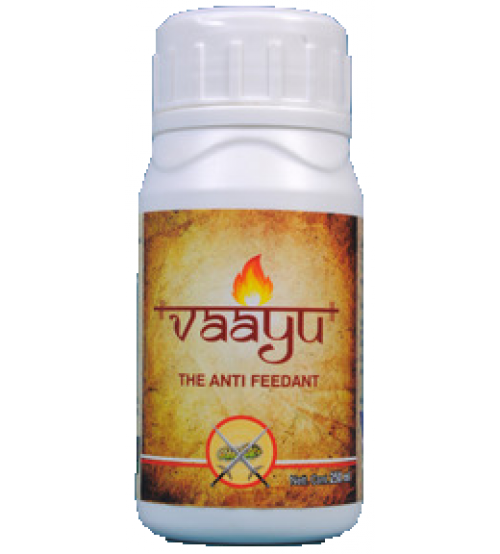 Vaayu-Antifeedant 250 ml
Brand: YK Laboratories
Categories: Certified Organic Products, Insecticide,
Availability: In Stock
Cash on delivery Availability: NO
Price:
Rs 800.00
Rs 435.00
Vaayu-Antifeedant 250 ml
The Antifeedant & The Repellent
Click here to see Organic Certificates of YK Labortories

Description:
A Potential Larvicideand Antifeedant against chewing caterpillars and borers prepared under the Ancient Vriksha Ayurveda system.
VAAYU - is an Eco friendly, economical,effective herbal formulation .
VAAYU has Stomach action,contact action and fumigant action.

Ingredients:
Zingiber Officinale-10%
Basil oil -18%
Peppermint oil-15%
Acorus Calamus-10%
SpearMint-8%
Rose Mary Oil-8%
Lemon Gross-2%
Water& Other herbs 29%

Highly Recommended against the following pests:
Heliothisarmigera (gram pod borer)

Spodopteralitturalis (Army worm )

Hellulaundalis (Cauliflower borer)

Plutellaxylostella (Diamond back moth )

AcheaJanata (Semi looper)
Mode of Action:-
1.Vaayu kills the insect larvae by fumigant action,the body of larvae is burnt and at once exposed to environment deterioration gives black colouration.
2. Vaayu binds the physiological receptors thereby causing hypertension which results in immobilization of parts.
3.Stomach action of toxic Herbal Alkaloids Viz.,,Zingiber,Menthone,Ocimum Causes results in Antifeedant and repellent and Death.
4. Long association of oil with plant parts gives extended control.

Advantage:-
Ensures Safe & Healthy world for Future generation.

Eco friendly and Cost Effective.

100% pure Organic and Indian Traditional Vriksha Ayurveda Organic product.

Safe to the Beneficial Insects and Aqua etc…

Safe to the humans and Environment.

Safely Use it in Indoor plants.

Insects don't become Resistant to VAAYU.

Best to apply at all stages of plant from Nursery to Harvesting.

100% Organic Certified by IFOAM/BIOCERT

Ideal for IPM Strategies can be used till the last day of harvesting.
Dosage:-
2.5 ml to 4 ml per liter of water in high volume Spray .
In a low population scenario 1ml to 1.5 ml per liter of water as, an early spray after seeing the egg stage.

Recommended crops:
| | | |
| --- | --- | --- |
| CROPS | INSECT PEST | DOSAGE / ML |
| Brinjal (Egg Plant) | Shoot & Fruit borer-Leucinodes Orbonalis | 2.5 to 4 ml / Per Liter Water |
| Chilli | Fruit Borer-Helicoverpaarmigera | 2.5 to 4 ml / Per Liter Water |
| Capsicum | Fruit Borer-Helicoverpaarmigera | 2.5 to 4 ml / Per Liter Water |
| Okra | Fruit Borer-EariasVitella | 2.5 to 4 ml / Per Liter Water |
| Chick pea | Helicoverpaarmigera | 2.5 to 4 ml / Per Liter Water |
| Cabbage & Cauliflower | Diamond Back Moth-PlutellaXylostella | 2.5 to 4 ml / Per Liter Water |
| Water Melons/Musk Melons | Leaf Minor –Liriomyza | 2.5 to 4 ml / Per Liter Water |
| Tomato | Tomato Fruit Borer-Helicoverpa | 2.5 to 4 ml / Per Liter Water |
| Ground nut | Red Hairy Caterpillar Amsactasp | 2.5 to 4 ml / Per Liter Water |
| RED Gram & Black Gram | Gram pod borer-Helicoverpaarmigera | 2.5 to 4 ml / Per Liter Water |
| Cotton | Pink Boll worm Pectinophoragossypiella&Spodoptera | 2.5 to 4 ml / Per Liter Water |
| Rice | Leaf roller/Stem borer | 2.5 to 4 ml / Per Liter Water |
| Maize | Stem borer -Fall Army Warm | 2.5 to 4 ml / Per Liter Water |
| SOYBEAN | Pod Borer/ Sem girdling beetle/Spodoptera | 2.5 to 4 ml / Per Liter Water |
| ROSE | Bud Worm Helicoverpavirescenes | 2.5 to 4 ml / Per Liter Water |
| Chrysanthemum | Spodoptera | 2.5 to 4 ml / Per Liter Water |
| Marigold | Spodoptera | 2.5 to 4 ml / Per Liter Water |
| Jasmine | jasmine bud worm Hendecasis | 2.5 to 4 ml / Per Liter Water |