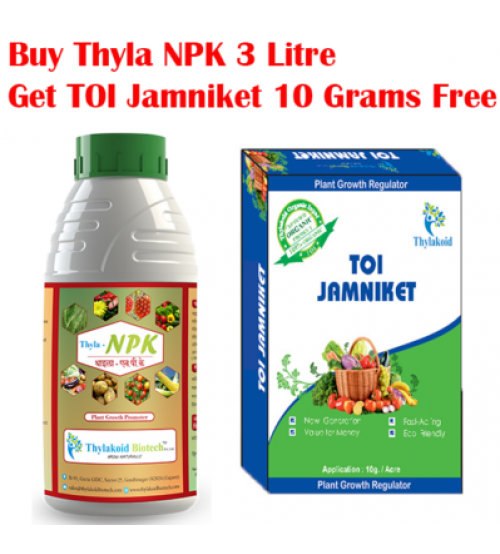 Thyla-NPK Buy 3 Get TOI Jamniket 10 grams Free
Buy Thyla-NPK 3 Litre Get TOI Jamniket 10 grams Free
Brand: Thylakoid Biotech Pvt. Ltd.
Categories: Certified Organic Products, Organic Fertilizer, Plant Growth Stimulator,
Availability: In Stock
Cash on delivery Availability: NO
Price:
Rs 670.00
Rs 569.00
This product has a minimum order quantity of 3
Thyla-NPK - Plant Growth Promoter 1 Litre
Click here to see Organic Certificates of Thylakoid Biotech Pvt. Ltd.
Description:
Advantage:
Helps in higher Photosynthesis and boosts vegetables growth

Enhances the flowering and reduces the flower drop.

Increases the yield and quality of the crop.

Increases the resistance power of the plant by strengthening the immune system.

Plays an important role in regulating water and nutrient movement in plant cedablells.

Increases the flower formation, fruit set, seed set & rate of maturity which results in higher yields.

Completely biodegradable and improves soil health.

Compatible to be used along with other fertilizers/pesticides.
Composition:
| | |
| --- | --- |
| Protein Hydrolysate (DB) | Not Less Than 45% |
| Total Nitrogen(DB) | Not Less Than 7.5% |
| Phosphorus(DB) | Not Less Than 7.5% |
| Potassium as Gluconate(DB) | Not Less Than 7.5% |
| Organic Carbon (DB) | Not Less Than 50% |
| Other Trace Nutrients(DB) | around 1% |

Recommendation:
It is recommended for vegetables, fruits, wheat, maize, paddy, cotton, cereals, horticultural crop and all other crops.

Method of Application & Dosage:
Foliar Application 2-3 ml / Iitre
Drip Irrigation 1-1.5 Litre /acre
Click here to see Guarantee / Warranty of this Product.