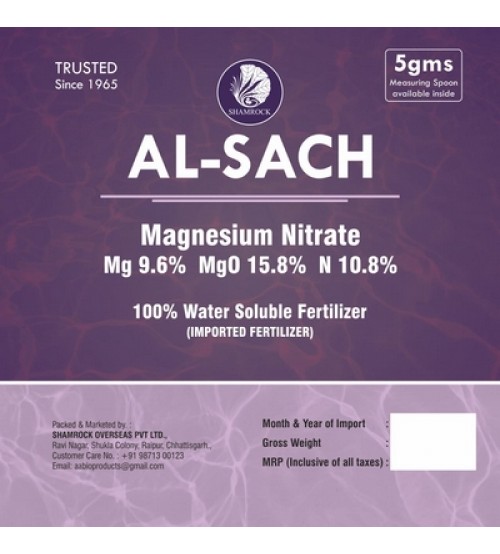 Shamrock Magnesium Nitrate 1 Kg
Delivery at Transport Office only.
Brand: Shamrock Overseas Pvt. Ltd.
Categories: Fertilizers, Magnesium Sulphate,
Availability: In Stock
Cash on delivery Availability: NO
Price:
Rs 200.00
Rs 65.00
This product has a minimum order quantity of 100
Shamrock Magnesium Nitrate 1 Kg
Description:




Magnesium nitrate fertilizer provides plants with readily-available magnesium, which is essential for their healthy growth. The nitrate in Magnesium Nitrate fertilizer facilitates the uptake of magnesium by the plant, thus improving its efficiency. It also enriches plant nutrition with readily available, easily absorbed nitrogen.



Composition:
Mg- 9.6%, Mg0 -15.8%, N-10.8%

Dose: 5gms per litre of water by foliar spray or drip

Nett. Weight: 1 Kg

Imported & Packed By: Shamrock Overseas Pvt. Ltd.
Click here to see Guarantee / Warranty of this Product.