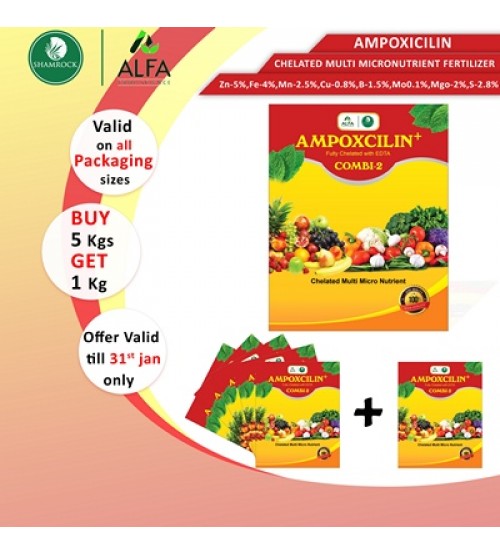 Shamrock Ampoxcilin - Combi 2 Chelated Multi Micronutrient 1 Kg (Buy5kgGet1kgFree)
(Buy5kgGet1kgFree)
Price:
Rs 1,400.00
Rs 850.00
This product has a minimum order quantity of 5
Shamrock Ampoxcilin - Combi 2 Chelated Multi Micronutrient 1 Kg

(Buy5kgGet1kgFree)
Technical- Chelated Multi-Micronutrient Fertilizer
Common Name – Combi 2
Form – Powder
1 Kg Box Packing
Description:
Ampoxcilin is chelated multi micronutrient and it is the perfect complement to NPK fertilizer.
Micronutrients are elements which are necessary in less amount, for the actual development and growth of plants, as they regulate the metabolic processes essential for their actual growth.
AMPOXCILIN is chelated multi micronutrient fertilizer with Magnesium and Sulphur for the prophylactic and curative treatment of micro nutrient deficiency in crops. Please note - the metallic elements are fully chelated by EDTA and Sulphur and Molybdenum are completely soluble salts.
Lack of micronutrients may lead to decrease the production of plants and crops.
How is Ampoxcilin (COMBI 2) useful to Plants?
It is useful for the prophylactic and curative treatment of micronutrient deficiencies in intensive crop and field crops.

The formulation of these products takes into the amount the subsequent combinations with fertilizers occurring in Imperganation and foliar applications.

This prevents precipitation, therefore avoiding clogging the irrigation system and atomizers.

It contains Homogeneous free flowing microgranules rapidly and completely soluble in water.
Composition:
Zn- 5.0%, Fe - 4.0%, Mn - 2.5%, Cu- 0.8%, B - 1.5%, Mo - 0.1%, MgO - 2.0%, S - 2.8%

Dosage:
FOLIAR SPRAY - 1.25gms in 1 litre water by spray (250gms in 200 litres water per acre)

DRIP - 2.5gms in 1 litre water (500gms in 200 litres of water per acre)

First dose recommended to be sprayed 10 days after transplanting.

For Best Results - Repeat dose every 15 days.
Nett. Weight: 1 Kg

Imported & Packed By: Shamrock Overseas Pvt. Ltd.
Click here to see Guarantee / Warranty of this Product.