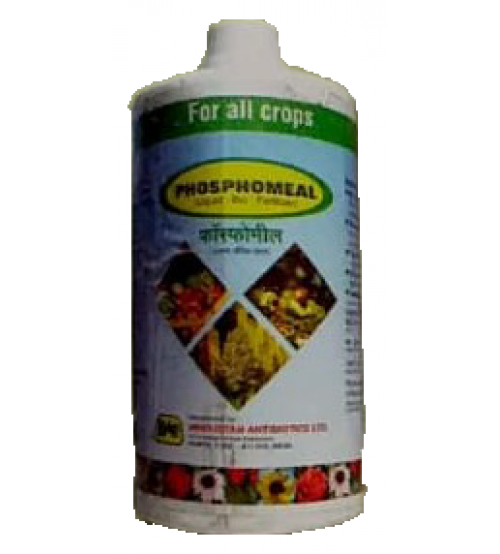 Phosphomeal - Phosphate Solubilizing Bacteria 250 ml
This product has a minimum order quantity of 40
Phosphomeal - Phosphate Solubilizing Bacteria 250 ml
Bio Fertilizer
250 ml Bottle packing
Description:
Phosphomeal contains a concentrate of phosphate solubilizing bacteria of soil origin in the dormant form to the concentration of 108 CFU / ml. It also contains preserved fermented metabolites necessary for plant growth.

Benefits:
Seed treatment with Phosphomeal helps in increased seed germination in short time and favours vigorous root growth.

Dipping seedling in Phosphomeal before transplanting helps in early plant stand and renders immunity against soil borne fungal infection.

Phosphomeal increases crop yield by 20-25%

Dosage:
Soil application: 2ml of Phosphomeal is to be diluted in 1 litre of water. Then spray on soil at the root zone before irrigation. Irrigation is must after application of Phosphomeal.
Seed treatment: 3 ml of Phosphomeal is diluted in 1 litre of water. Dip the seeds in the solution for 20 minutes. Dry the seeds under shade and sow as per usual practice.
Transplanting: 2-3 ml of Phosphomeal is diluted in 1 litre of water, before transplanting the seedlings are dipped in this solution.
Foliar spray: Dilute 2 ml of Phosphomeal in 1 litre water and spray on a standing crop.

Recommendation: For all crops

Precautions:
Do not mix with any insecticide or fungicide.

Phosphomeal is to be sprayed either in the morning or in the evening.

If seed are to be treated with insecticide / fungicide it should be treated so first. Then treat it with Phosphomeal before sowing.

Keep away from direct sunlight, Insecticides and fungicides.

Do not keep the bottle cap open.

Toxicity:
Non toxic & eco friendly.