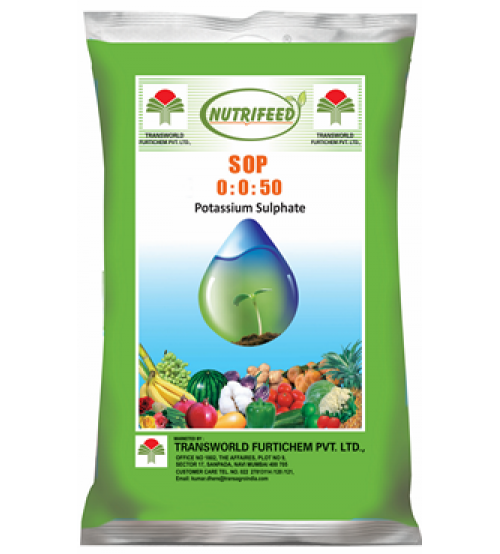 Nutrifeed S:O:P 00:00:50 1 Kg
Brand: Nutrifeed
Categories: Fertilizers, S.O.P. (Water Soluble),
Availability: In Stock
Cash on delivery Availability: NO
Nutrifeed S:O:P 00:00:50 1 Kg




Description:
For application through fertigation& foliar spray.

Composition:
| | |
| --- | --- |
| Nitrogen | 0% |
| phosphorus | 0% |
| Potash | 50% |
| Sulphate | 17.50% |
NUTRIFEED SOP Benefits:
It provides good quality of produce, as it has minimum chloride & Sodium (Na) content, which does have any effect on soil salinity.

It is very ideal to all crops & all types of soils even (Calcareous Soils),since it helps in lowering pH of irrigation water. It is suitable for high E.C.Contents of water (i.e high Bicarbonates,)which has high water pH.

It is highly suitable for Tomato, Potato, Cucumber, Water melon, and also fruit crops like Grapes, Pomegranates, Citrus, Banana, Lemons and field crop like Tobaco.

It is ideal for use during last growth period, where Potashrequirements of the crop is high. This results in good fruit quality as higher weight, shining colour, better sweetness, with long shelf life.

It is eco-friendly NUTRIFEED SOP as it is Nitrate free Potassium.

Being sulphate enriched product, it does not have any effects on ground water quality.

It is economical, as its gives higher yield with quality produce
Crops:
It is preferred for fertilization of crops like tobacco, potato, grapes, apple, pomegranate, banana, mango, orange, tomato, chilli, onion, garlic, rubber, cotton etc., where quality is of prime importance.
Note: Our recommendation as per our trials. However, dosages and application willdepend on soil analysis and crop growth stages

Caution: Best time of spray is early morning or during evening hours. When temperature are low. Do not spray during drought or water stress or diseased condition.

Compatibility: It is compatible with commonly used Insecticides & Fungicides (except Bordaux& plant growth promoters & regulators).
Application rate:
Foliar spray: At fruiting, fruit development & 20-25 Days before picking of fruit @ 3 - 5 grams / litre of water

Drip: Use dosage based on crop and its growth stages

Drench: Drench at before flowering, fruit setting and fruit development stage @ 2.5 - 3 grams / litre of water or as per crop requirement

NUTRIFEED 00:00:50 for fertigation : It can be used in different fertigation systems. Potassium contents of fertigation solution should be in between 200 - 400 ppm K to the water.

Packing- 1Kg