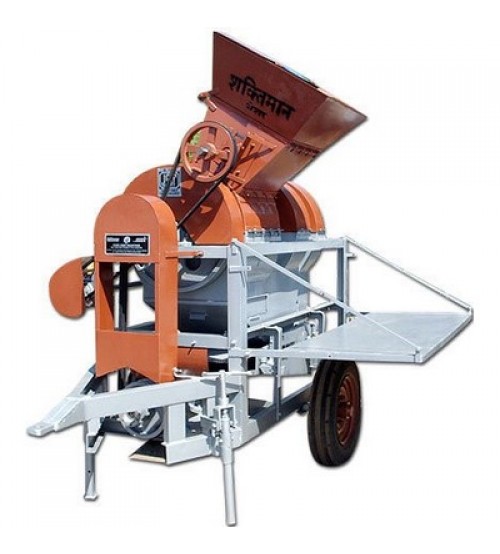 Multi Crop Thresher (1.75 Feet )
Brand: Rushi Agro Industries
Categories: Farm Machinery, Tractors Implement's, Multi Crop Thresher, Multi Crop Thresher,
Availability: In Stock
Cash on delivery Availability: NO
Multi Crop Thresher (1.75 Feet)


Description:

Power Thresher is a very convenient machine for use of farmers in post harvesting procedures. It completes the Threshing and winnowing of crop in single operation. Clean grains free of husk and dust comes out on one side, while husk is blown away by aspirator blower on other side and is gathered 10 to 15 feet away. The size of husk straws can be adjusted from small to large as per requirement.


Parts of the Machines:
Frame

Feeding chute

Cylinder

Concave

Sieve

Sieve rocking mechanism ( Eccentric system )

Aspirator blo

V Belts

V Belt pullies

Fly Wheel

Main Shaft

Blower Housing

Straw Outlet

Transporting Wheels

Beater.
| | |
| --- | --- |
| PRIME MOVER | CAPACITY |
| 2.2KW ( 3 HP ) elec. Motor | 1000 to 1500 Kgs per Hour |
| 2.7 KW ( 5 HP ) elec. Motor | 2000 Kgs. Per Hour |
| 5.5 KW (7.5HP) elec. Motor | 3000 Kgs. Per Hour |
| 7.5 KW (10 HP) elec. Motor | 4000 Kgs. Per Hour |
| 11 KW (15 HP) elec. Motor | 6000 Kgs Per Hour |
| 15 KW (20 HP) elec. Motor & Tractor Driven Models. | 8000 Kgs. Per Hour |