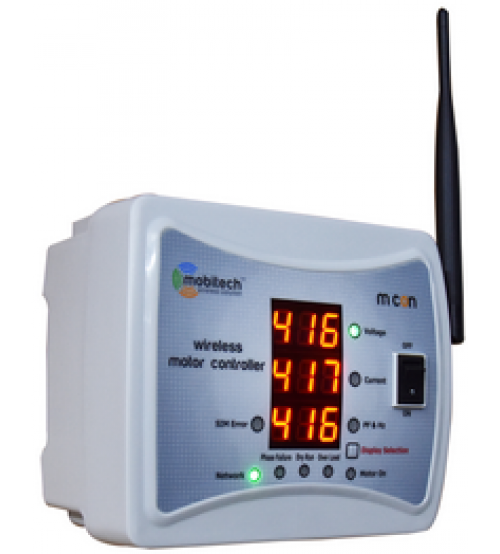 Mobitech Wireless Motor Controller MCON
Brand: Mobitech Wireless Solution
Categories: GSM Mobile Starter, Cell Phone Motor Starter,
Availability: In Stock
Cash on delivery Availability: NO
Price:
Rs 12,500.00
Rs 9,099.00
Mobitech Wireless Motor Controller MCON


Description:
a. Switch ON and OFF motor remotely through mobile phone.
4. Smart phone application (GPRS)
4.Sudden failure of a phase
1. MCON can be controlled through 9 mobile numbers.
2. It responds to registered mobile number only.
3. A1 user is the super admin
1. Six types of timers help the user to choose according to their requirements.
1. Smart phone and browser based application
1 a. A mobile number can control 'n' number of motors.
1 b. User can control and monitor all the Motors's through one application.
(i) Real time voltage (V)
(ii) Real time current (C)
(i) Dry run cut-off current (A) value
(ii) Over load cut - off current (A) value
a. It helps to intimate the electricity failure message to user.
b. It has circuits to charge the battery, low voltage and high voltage cut – off.
3. Suitable motor Starters
b. Star Delta (Fully automatic & Semi automatic)
a. Flexible wiring kits bridge the motor starter and MCON controller.
b. Individual wiring kits for 3 phase inputs, CT coil and motor control.
a. Controller has high bright display for
a. Firmware can be update "over the air"
b. User can use a relay to switch ON and OFF a bulb through timer mode.
(Note: This features isn't possible to use, while MCON fixed in semi automatic star delta starter ).

Guarantee / Warranty:
1 Year full replacement Guarantee on all Mobitech models.