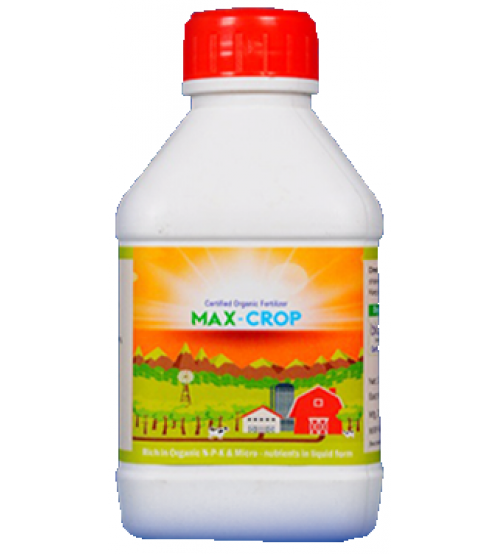 Max Crop - Organic Fertilizer 1 Litre
Brand: YK Laboratories
Categories: Certified Organic Products, Organic Fertilizer,
Availability: In Stock
Cash on delivery Availability: NO
Price:
Rs 550.00
Rs 414.00
Max Crop - Organic Fertilizer 1 Litre
Organic Fertilizer
Organic Matter: 20%
Organic Carbon: 8.5%
Organic NPK: 12%
Plant Extract Auxins: 8%

Description:
Max CROP is a special formulation which is derived from Plant Extracts and Organic Manure.
Max CROP is a 100% Organic Fertilizer which is equivalent to (N-P-K) 20-20-20 & Micro Nutrients.

Advantages:-
Rich In Organic N-P-K & Micro-nutrients in Liquid Form .

It Completely Replacement of Chemical NPK Fertilizer.

Provides freely available organic N-P-K in Balanced Form.

Provides micro-nutrient balanced Combination.

Best to apply at all stages of plant from Nursery to Harvesting.

Certified by IFOAM/BIOCERT & Telangana State Organic Certification Authority.

No Chemical either in stabilizer or preservative is used,

Ideal for IPM Strategies can be used till the last day of harvesting.

Method of Application: Foliar Spray

Dosage: 2.5 to 3 ml of water

Recommended Crops:
Vegetables:-Tomato, Chillis, Capsicum, Water Melons and Mask Melons, Ridgegourd, Bittergourd.
Fruit Plants: - Banana, Papaya, Mango, Lichi, Guava, Lemon, Orange, Grapes
Crops: Paddy, Jute, Wheat, Barley, Mustard, Ground nut, Sunflower, Soybean, Cotton.
Flowers:- Rose, Cut Flowers, Chrysanthemum, Mari gold etc.