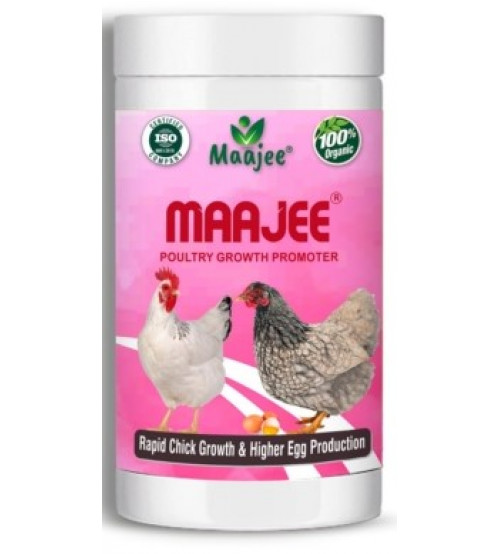 Maajee Multivitamins Nutrition & Mineral Supplements for Poultry 908 grams (B2G1)
Buy 2 Packs Get 1 Pack Free
Brand: Maajee
Categories: Poultry Products,
Availability: In Stock
Cash on delivery Availability: NO
This product has a minimum order quantity of 2
Maajee Multivitamins Nutrition & Mineral Supplements for Poultry 908 grams

Description:
MAAJEE Multivitamins Nutrition & Mineral Supplements is a weight gainer & growth promoter for poultry. Beneficial in supporting normal behavior patterns, better focus, and attention span.

Intended Use:
Growth and Performance, Vitamins and Supplements, Get the nourishment that only whole foods (and whole food supplements) can provide.

Get all the co-factors, nutrient synergy Gain weight (No side effects)
Special Features:
It Helps for Better Growth & Livability.

It Improves F.C.R & Nutrients Utilization

It Helps to improve weight gain

It Helps to Prevent any kind of stress in animals

Storage Instructions:
Store in a cool and dry place, away from sunlight.

How to use it for Poultry:
100 kg to be mixed in a 1000 kg feed.
Nett. weight: 908 grams
Produced and Marketed by: Global Earths