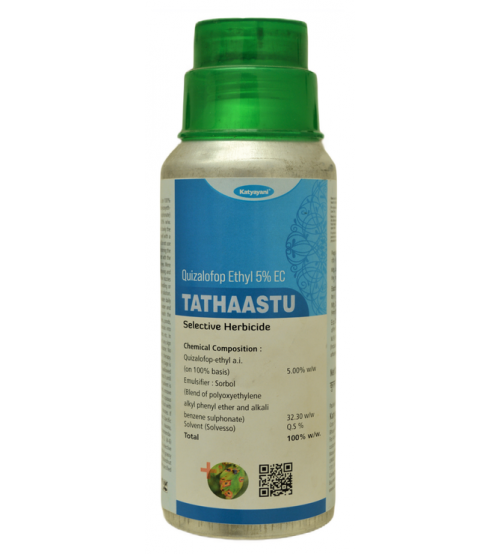 Katyayani Tathaastu - Quizalofop-ethyl 5% EC 250 ml
Brand: Katyayani Organics
Categories: Insecticides/Pesticides, Herbicide/Weedicide,
Availability: In Stock
Cash on delivery Availability: NO
Price:
Rs 610.00
Rs 463.00
This product has a minimum order quantity of 40
Katyayani Tathaastu - Quizalofop-ethyl 5% EC 250 ml
Technical: Quizalofop-ethyl 5% EC
Substance group: Aryloxyphenoxypropionate herbicide
Product Type: Herbicide
Mode of action: Systemic, absorbed through leaves and translocated. An acetyl CoA carboxylase inhibitor (ACCase).

Introduction:
Recommendations from Central Insecticides Board & Registration Committee:
Crop Name
Weed species
Dosage/ Ha
Dilution In Water (Litres)
Waiting period /
PHI between last application & harvest (days)
Formulati on in (gm/ ml /Kg/ ltr)

Soybean
Echinochloa crusgalli
E. colomum Eragrostis sp.

0.75-1.0

500-600

95

Cotton
Echinolchloa crusgalli, Echinochloa colonum, Dinebra retroflexa Digiteria marginata

1000

500

94

Groundnut
Echinochloa colonum, Dinebra retroflexa Dactyloctenium sp.

750-1000

500

89

Black gram

Eleusine indica, Dactyloctenium aegyptium, Digitaria sanguinalis, Eragrostis sp., Paspalidium sp., Echinochloa sp.,
Dinebra ratroflexa

750-1000

500

52

Onion

Digitaria sp., Eleusine indicia,
Dactyloctenium aegyptium, Eragrostis sp.,

750-1000

375-450

7
Note:
All Herbicides / Weedicides are risky; we DO NOT recommend you to use it on any of your crops.
Use it on your own risk after proper consultation. (You can get consultation in local language from Kisan Call Center : 1800 180 1551)
KISANeSTORE is not liable for any damage caused by this Herbicides / Weedicides.
Nett. Vol.: 250 ml
Manufactured, Marketed & Dispatched by: Katyayani Organics
Click here to see Guarantee / Warranty of this Product.
Other Known Brands for Similar Formulations:
Builder (Bharat), Hakama (IIL), Impool (Godrej), Khaleesi (HPM), Raka (Parijat), Targa Super (Dhanuka).