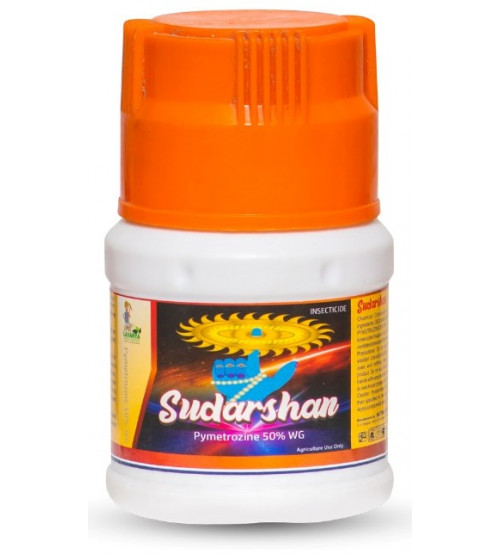 Sudarshan - Pymetrozine 50% WG (BPH) 100 grams
Brand: Lavanya Agritech Industries
Categories: Insecticides/Pesticides, Pesticides & Insecticides,
Availability: In Stock
Cash on delivery Availability: NO
Price:
Rs 1,050.00
Rs 579.00
Sudarshan - Pymetrozine 50% WG (BPH) 100 grams
Technical: Pymetrozine 50% WG
Substance group: Pyridine
Product type: Insecticide
Mode of action: Selective, neural inhibition of feeding behavior that eventually starves insect.
100 grams Packing

Introduction:
| | |
| --- | --- |
| Introduction | Pymetrozine 50% WG is a systematic insecticides and recommended for the control of Brown plant hopper in Rice crop. Foliar pest not directly hit by the spray are also controlled by Pymetrozine 50% WG pest stop feeding and die gradually after coming in contact with its spray. Caution : - Pymetrozine 50% WG is not to be used on crops other than specified in this leaflet. |
| Time of Application | When used as per the recommendations given below Pymetrozine 50% WG provide control of Brown plant hopper in Rice crop. |
| Direction of Use | Measure the required quantity of insecticides and mix it in small quantity of water and gradually add the rest of the water to prepare solution. Apply with knapsack sprayer when pest appears on the crop and repeat if necessary as per pest incidence. Maximum two sprays to be given starting first spray at initial pest infestation reaching Economic Thershould Level (ETL). |
| Precautions | Do not use cooking utensils for preparing the spray solution. Use stick for stirring the spray solution. Avoid contact with Skin, Eye and clothing. Avoid inhalation of fog and vapor. Wear hand gloves and boot while handling the product. Do not eat, drink or smoke while applying the product. Wash hand with soap and plenty of water and change clothe after the work is over. Avoid contamination of air and water bodies with the insecticide also wash the contaminated clothes. |
| Signs and Symptoms of Poisoning | Acute systemic toxicity in unlikely unless large amounts have been ingested. The symptom of poisoning may be irritation of eyes, skin and respiratory tract, hypoactivity, lacrimation, dypsea, soft stool, red stained urine, tremors, hypothemic to touch, erythema etc. |
| First Aid Measures | Remove affected person to a well ventilated area or fresh air and protect him from undercooling. 1. In case of skin contact: Remove contaminated clothing and thoroughly wash the affected parts of the body with soap and water. 2. In case of Eye contact: Rinse eyes with clean water for several minutes. 3. In case of Ingestion: Get the attention of the medical doctor immediately. Note: Do not induce vomiting or never give anything by mouth to an unconscious person. Rinse the mouth with water and give one or two glass o water to drink if conscious and alert. |
| Drug Therapy (Anti-Dote) | No specific antidote is known. Treat symptomatically. |
| Storage | 1. Packages containing the insecticides shall be stored in separate rooms or premises away from the room or premises use for storing the other articles or shall be kept in separate almarihs under lock and key depending upon the quantity and nature of the insecticides. 2. The room or the premises meant for storing the insecticide, shall be well built, well lit, well ventilated and sufficient dimension to avoid contamination with vapour. |
| Disposal of Containers | 1. The packages shall be broken and buried away from habitation. 2. The used packages shall not be left outside to prevent their re-use. 3. Packages or surplus material and washing should be disposed off in safe manner so as to prevent environment or water pollution. |
| Dosage/ Area | /Hectare |
Recommendations from Central Insecticides Board & Registration Committee:
Crop Name
Common Name of the Pest
Dosage/ Hectare
Waiting Periods (Days)
Formulations (gm/ ml)
Dilution in Water (Litres)

Paddy (Rice)

Brown plant hopper

300

500

19
Nett. Weight: 100 grams
Manufactured, Marketed, and Dispatched by: Lavanya Agritech Industries
Click here to see Guarantee / Warranty of this Product.
Other Known Brands for Similar Formulations:
Chess (Syngenta)