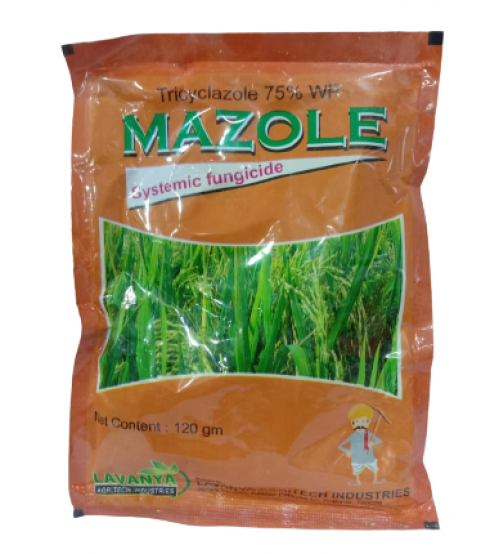 Mazole - Tricyclazole 75% WP 120 grams
Brand: Lavanya Agritech Industries
Categories: Insecticides/Pesticides, Fungicides,
Availability: In Stock
Cash on delivery Availability: NO
Price:
Rs 325.00
Rs 289.00
This product has a minimum order quantity of 2
Mazole - Tricyclazole 75% WP 120 grams
Technical Name: Tricyclazole 75% WP
Product Type: Fungicide
120 grams Packing
Desription:
Tricyclazole 75% WP is a systemic fungicide used to control paddy blast disease. It provides control against blast incidence that occurs at various growth stages of rice crop viz., leaf blast, stem blast and panicle blast.
Recommendations from Central Insecticides Board & Registration Committee:
Crop Name
Common Name of the Diseases
Dosage per Ha
Waiting period from last application to harvest
(in days)
Formulation (gram/ ml)/%
Dilution in Water

Paddy (Rice)

Blast

300-400
gm

500

30

Nett. Weight: 120 grams

Product Manufactured, Marketed, and Dispatched by: Lavanya Agritech Industries
Click here to see Guarantee / Warranty of this Product.