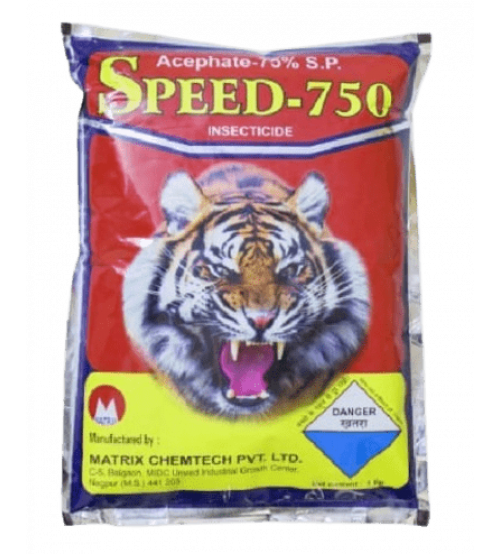 Speed 750 - Acephate 75% SP 1 Kg
Brand: Lavanya Agritech Industries
Categories: Insecticides/Pesticides, Pesticides & Insecticides,
Availability: In Stock
Cash on delivery Availability: NO
Price:
Rs 900.00
Rs 849.00
Speed 750 - Acephate 75% SP 1 Kg
Technical: Acephate 75% SP
Substance group: Organophosphate
Product type: Insecticide
Mode of action: Broad-spectrum, contact and ingestion systemic action. Weak acetylcholinesterase (AChE) inhibitor.
1 Kg Packing
Recommendations for Acephate 75% SP
Introduction
It is a soluble powder containing Acephate ingredient 75% w/w and balance other relevant ingredients. It is used to control Jassids and bollworms on cotton, Aphid on safflower and stem borer, leaf folder, plant hopper & GLH on paddy.
Direction Of Use
Knapsack sprayer, foot sprayer, compression knapsack sprayer, compression knapsack battery sprayer and ASPEE-HTP power sprayer.
Precautions
1. Keep away from foodstuffs, empty foodstuff containers and animals feed. 2. Avoid contact with mouth, eyes and skin. 3. Avoid inhalation the spray mist. Spray in the direction of wind. 4 . Wash thoroughly the contaminated clothes and parts of the body after spraying. 5. Do not smoke, drink, eat and chew anything while spraying. 6. Wear full protective clothing while mixing and spraying.
Signs And Symptoms Of Poisoning
Headache, giddiness, vertigo,nausea, vomiting, blurred vision, diarrhoea, convulsions, excessive sweating, lacrimation and salivation may occur.
First Aid Measures
1. If swallowed, induce vomiting by tickling the back of throat. Repeat it until the vomitus is clear. Do not induce vomiting if the patient is unconscious. 2. If clothing and skin are contaminated, remove the cloths and wash the contaminated skin with copious amount of soap and water. 3. If eyes are contaiminated, flush with plenty of saline/clean water for about 10 to 15 minutes. 4. If inhaled, remove the patient to fresh air.
Drug Therapy (Anti-Dote)
1. Atropinize the patient immediately and maintain full atropinization by repeated doses of 2 to 4 mg. of atropine sulphate intravenously at 5 to 10 minutes interval. As much as 25 to 50 mg. of atropine may be required in a day. The need for further atropine administration is guided by the continuance of symptoms. Extent of salivation is a useful criterion for dose adjustment. 2. Dissolve 1-2 gm of 2 PAM in 10 ml distilled water and inject intravenously very slowly for 10-15 minutes.
Phytotoxity
The product is not phytotoxic, When used as per field recommendation.
Storage
1. The packages containing the insecticides shall be stored in separate rooms or premises away from the rooms or premises used for storing other articles or shall be kept in separate almirah under lock and key depending upon the quantity and nature of the insecticide 2. The rooms or premises meant for storing the insecticides shall be well built, dry, well-lit, ventilated and of sufficient dimensions to avoid contamination with vapours
Disposal Of Containers
1 It shall be the duty of manufactures formulators of herbicide and operator to dispose packages or surplus materials and washings from the machine and container shall be disposed off in a safe manner so as to prevent environmental and water. pollution. 2 The used packages shall not be left outside to prevent their re-use. 3 Packages shall be broken and burried away from habitation.
Dosage/Area
per Hectare
Recomendation:.
Sr. No.
Crop(s)
Used Against
Dosage per Hectare
Waiting Period
(English)
(Hindi)
(English)
(Hindi)
Formulation
Dilution In Water
English (gm)
Hindi (ग्राम)
English in water (liter)
Hindi (लीटर)
English days
Hindi दिन
1
Cotton
कपास
Bollworm
डोडे कि सुंडी
780
780
500-1000
500-1000
15
15
2
Cotton
कपास
Jassid
तेंला
390
390
500-1000
500-1000
15
15
3
Safflower
कुसुम
Aphid
माहु
780
780
500-1000
500-1000
15
15
4
Paddy
धान
Stem borer, Leaf folder, Plant hopper & GLH
तना छेदक, पत्ता मोड़क, फुदका, हरा पत्ता फुदका
666-1000
666-1000
300-500
300-500
15
15
Nett. Vol.:
1 litre
Product Manufactured by: Matrix Chemtech Pvt. Ltd.
Marketed, and Dispatched by: Lavanya Agritech Industries
Click here to see Guarantee / Warranty of this Product.
Other Known Brands for Similar Formulations:
Orkem (Sumitomo), Acefex (Excel), Ace (TCL), Hythene (Hydrabad Chemicals), Starthene (Shaw Wallace), Lancer (UPL), Pace (Nagarjuna), Tremor (Biostadt), Ortain (Coromandel), Sritaf (Crystal), Orthene (Arysta), Torpedo (Isagro), Asataf (Rallis), Oval (Pesticides India), Aphasan 75 (Zuari), Acemain (Maktheshim Agan), Tamaron gold (Bayer), Lucid (Cheminova), Control (Sulphur Mills), Load (Indofil), Artheen (Pyari), Megastar (M.O.L), Hilphate (H.E.L), Twin gard (Gharda), Deldheen (Dinocil), Arkem (New Chemi), Dhan raj (Dhanuka), Miltaf (IIL).