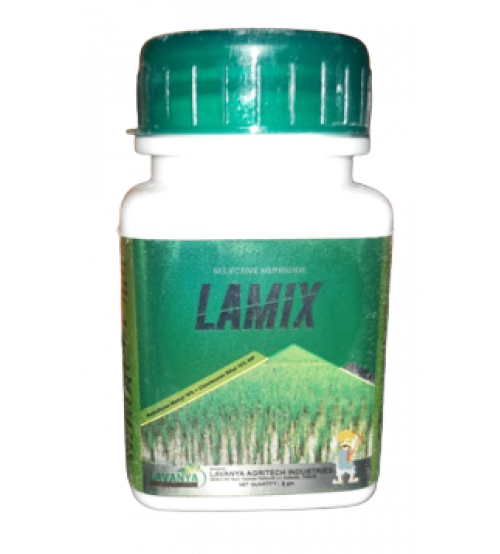 Lamix - Metsulfuron Methyl 10% + Chlorimuron Ethyl 10% WP 8 grams
Brand: Lavanya Agritech Industries
Categories: Insecticides/Pesticides, Herbicide/Weedicide,
Availability: In Stock
Cash on delivery Availability: NO
Price:
Rs 190.00
Rs 149.00
This product has a minimum order quantity of 2
Lamix - Metsulfuron Methyl 10% + Chlorimuron Ethyl 10% WP 8 grams
Technical:
Metsulfuron Methyl 10% + Chlorimuron Ethyl 10% WP
Substance group: Sulfonylurea
Product type: Herbicide, Metabolite (Specially for Wheat & Paddy / Rice)
Mode of action: Selective, systemic with contact and residual action. Inhibits plant amino acid synthesis - acetohydroxyacid synthase AHAS
Packing: 8 grams
Description:
A broad spectrum herbicide used to control weeds mainly in cereals. It is used to control broad-leaved weeds, some annual grasses etc.
Recommendations from Central Insecticides Board & Registration Committee:
Herbicide name & approved Crops
Weed Species
Dosage/ Ha
Dilution In Water (Litres)
Waiting period /
PHI between last application & harvest (days)
Formulati on in (gm/ ml /Kg/ ltr)

Transplanted Rice (Pre-emergence application-3 DAT

Cyperus iria, Cyperus difformis,
Fimbristlylis miliaceae, Eclipta alba,
Ludwigia parviflora, Cyanotis axillaries, Monocoria vaginalis, Marsilea quadrifoliata,

20 grams.

300

90

Note:
All Herbicides / Weedicides are risky; we DO NOT recommend you to use it on any of your crops.
Use it on your own risk after proper consultation. (You can get consultation in local language from Kisan Call Center : 1800 180 1551)
KISANeSTORE is not liable for any damage caused by this Herbicides / Weedicides.
Nett. Weight: 8 grams
Product Manufactured, Marketed, and Dispatched by: Lavanya Agritech Industries
Click here to see Guarantee / Warranty of this Product.
Other Known Brands for Similar Formulations:
Algrip (Dupont), Weed Grip Plus (Insecticides India Limited), Hook (Dhanuka), Metgrip (Biostadt), Supergrip (Pioneer Pesticides Pvt. Ltd.), Moto Combo (Chambal Fertilizers And Chemicals Limited), Cropgrip (Crop Life Science Ltd.), Nonstop (Crop Chemical India Ltd.), Molgrip (Gujarat Pesticides), Anemy (Golden Crop N Bio Science), Alto (Jayshree Rasayan Udhyog Ltd.)