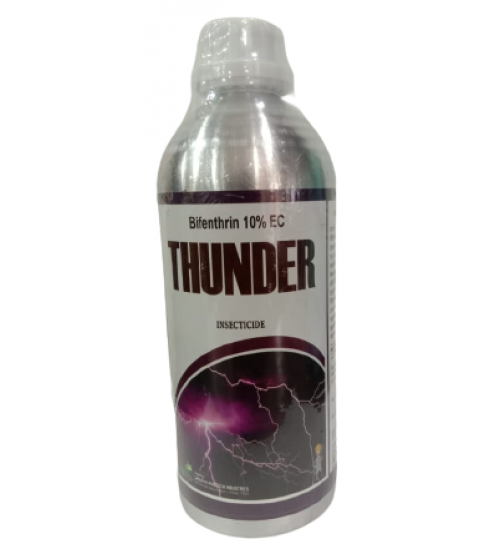 Thunder - Bifenthrin 10% EC 1 litre
Brand: Lavanya Agritech Industries
Categories: Insecticides/Pesticides, Pesticides & Insecticides,
Availability: In Stock
Cash on delivery Availability: NO
Price:
Rs 1,251.00
Rs 1,199.00
Thunder - Bifenthrin 10% EC 1 litre
Technical: Bifenthrin 10% EC
Substance group: Organophosphate
Product type: Insecticide, Acaricide
Mode of action: Contact and stomach action with some residual effect. Sodium channel modulator
1 Litre Packing
Bifenthrin is a pyrethroid insecticide that is widely used to kill insects. There is effectual control of aphids, jasid, and whiteflies through bifenthrin 10 EC with 97.9%, 85.9%, and 86% mortality rates, respectively. Recommended on Bollworm, Sucking pest and White fly in Cotton, Leaf folder, Green leaf hopper & Stem borer in Rice, and Termite in Sugarcane.
CHEMICAL COMPOSITION
: Bifenthrin a.i. 10% w/w, Emulsifier-Blend of Calcium alkyl benzene sulphonate
and alkoxy alkyl ether and alkoxy alkyl aryl ether 10% w/w, C-IX Solvent Q.S., Total 100% w/w.
SYMPTOMS OF POISONING
: Effects from over exposure result from either swallowing, inhaling or coming into
contact with the eyes or skin. Symptoms of overexposure include bleeding from the nose, tremors and convulsions.
Contact with this product may occasionally produce skin sensations such as rashes, numbing, burning or tingling.
These skin sensations are reversible and usually subside within 12 hours.
FIRST AID
: If inhaled, take the patient into fresh air. If breathing difficulty or discomfort occurs and persists, obtain medical attention.
Rinse mouth with water, Dilute by giving 1 or 2 glasses of water. Never give anything by mouth to an unconscious person.
Refer to a medical doctor immediately. Remove contaminated clothes, wash contaminated skin and clothes with soap and plenty of water.
Get medical attention if irritation occurs and persists. If eyes are contaminated, wash for 15 minutes with clean water.
ANTIDOTES
: Treat symptomatically and supportively.
Recommendations:
Sr.No.
Crop(s)
Used Against
Dosage per Hectare
Waiting Period
Formulation
Dilution In Water
English (gm)
Hindi (ग्राम)
English in Water (liter)
Hindi (लीटर)
English days
Hindi (दिन)
1
Cotton
कपास
Bollworm
डोडे की सूंडी
800
800
500
500
15
15
2
Cotton
कपास
white fly
सफेद मक्खी
800
800
500
500
15
15
3
Rice
धान
Stem borer, Leaf folder, green leaf hopper
तना छेदक, पत्ती मोड़क, हरी पत्ती का तेला
500
500
500
500
21
21
4
Sugarcane
गन्ना
Termite
दीमक
1000
1000
500
500
10 (Months)
10 (महीने)
Product Manufactured, Marketed, and Dispatched by: Lavanya Agritech Industries
Click here to see Guarantee / Warranty of this Product.
Other Known Brands for Similar Formulations:
Imperial (Maktheshim Agan), Talstar (FMC), Canister (CIL), Hectastar (SWAL), Impeder (Rallis), Markar (Dhanuka).