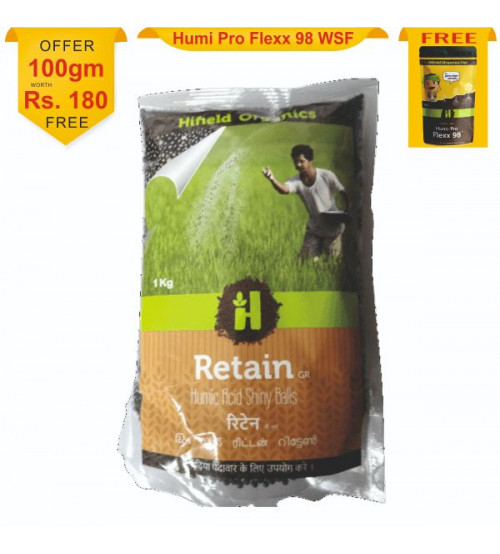 Retain - Humic Granules 1 Kg (Offer)
Humi Pro Flexx 98 WSF (Humic Acid) 100 grams Free
Brand: Hifield Organics Inc.
Categories: Bio Products, Plant Growth Promoter, Today's Deals,
Availability: In Stock
Cash on delivery Availability: NO
Price:
Rs 500.00
Rs 325.00
Retain - Humic Granules 1 Kg
Humic Granules
Plant Growth Promoter
1 Kg packing
Bio Products
Description:
This product improves soil fertility and makes it ideal for farming. It also works as the best soil conditioner that enhances its structure and workability.
Features:
Humic Acid shiny granules boost plant growth and improve the development of white fibrous roots.
Produce thicker, greener, and healthier foliage and helps in water retention.
Promote nutrient uptake and increases crop yield.
Suitable to mix with NPK fertilizer for optimum utilization.
Suitable for all crops including field crops, potting soil, vegetable and flower gardens, orchards and turf grass, etc.
Advantages:
Works as a soil conditioner.
Helps in root and shoot development.
Helps in uniform plant development.
Improves yield quality and quantity.

Mode of Application: Broadcasting

Dosage: 1-2 Kg per Acre

Country of Origin: India
Manufacturer Name: Hifield Organics Inc.
Manufacturing Address: Plot No G-39/16, Sector G, M.I.D.C WALUJ, AURANGABAD 431 136 (M.S.) India.