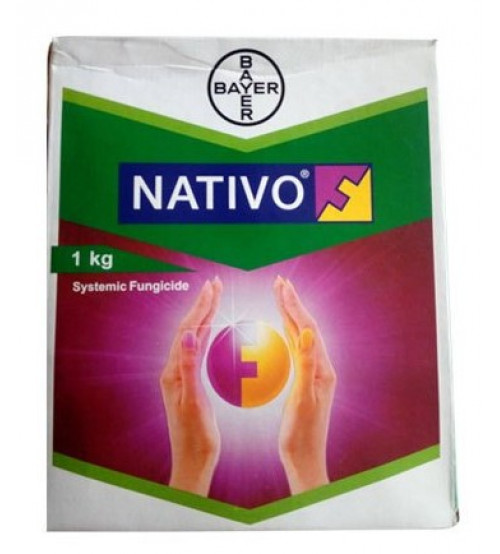 Nativo - Tebuconazole 50% + Trifloxystrobin 25% WG 500 grams
Brand: Bayer Crop Science Ltd.
Categories: Insecticides/Pesticides, Fungicides, Wholesale,
Availability: In Stock
Cash on delivery Availability: NO
This product has a minimum order quantity of 2
Nativo - Tebuconazole 50% + Trifloxystrobin 25% WG 500 grams
Technical Name: Tebuconazole 50% + Trifloxystrobin 25% WG
Fungicide
500 grams Packing
Description:
Nativo is a new combination fungicide containing Tebuconazole and Trifloxystrobin. Nativo is a systemic broad-spectrum fungicide with protective and curative action which offers not only a disease control but also improves quality and yield of crop. In rice, it improves the yield quality by reducing incidence of dirty panicle in later crop stages.

In tomato, Nativo protects foliage from early blight, enhances plant health and lays a strong platform for higher and quality yield. Timely application of Nativo has excellent efficacy for managing mango powdery mildew and anthracnose diseases, which leads to high and quality yield of mango. Nativo protects the flag leaf of wheat from yellow rust and powdery mildew and contributes to improving the yield and quality of grains.

Mode of Action:
Tebuconazole is dimethylase inhibitor (DMI) -interferes in process of building the structure of fungal cell wall. Finally it inhibits the reproduction and further growth of fungus.

Trifloxystrobin interferes with respiration in plant pathogenic fungi.

Fungicide Resistance Action Committee (FRAC) Classification No.Tebuconazole 3; Trifloxystrobin 11
Features:
Combination of two different modern modes of action - Excellent protective and curative activity due to Tebuconazole & protective action due to Trifloxystrobin

Demonstrates mesostemic action (good penetration and re-distribution)

Gives broad spectrum control on targeted diseases, with flexibility in application time

Excellent resistance management tool

Provides stress tolerance to crops against biotic and abiotic factors

Enhances yield and improves milling quality
Recommendations from Central Insecticides Board & Registration Committee:
Crop Name
Common Name of the Diseases
Dosage per Hectare
Waiting Period from Last Application to Harvest (in days)
Formulation (gm/ ml)/%
Dilution in Water (Litre)

Rice (Paddy)

Sheath blight, Leaf, Neck Blast, Glume
discoloration (dirty panicle)

200

375-500

21

Tomato

Early blight

350

500

5

Grapes

Powdery mildew

175

1000

34

Chilli

Powdery mildew, Anthracnose, Alternaria leaf
spot

250

500

5

Wheat

Yellow rust,
powdery mildew

300

300-500

40

Mango

powdery mildew, Anthracnose

0.075%--
0.1%(75—
100g/100lit water)
Spray fluid as required
depending on size of tree

15
Manufactured by: Bayer Crop Science Ltd.
Click here to see Guarantee / Warranty of this Product.