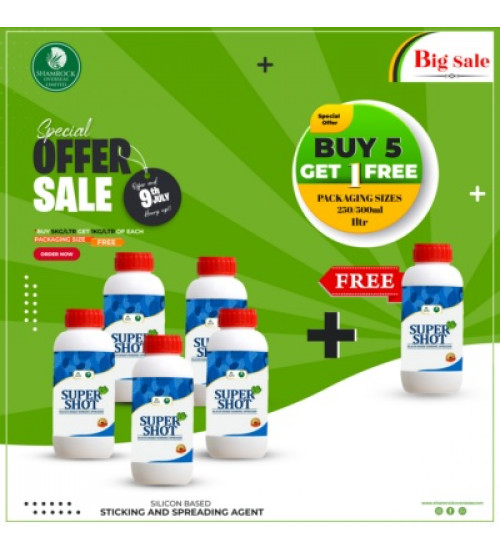 Super Shot 1 litre (Buy5litreGet1litreFree)
Buy 5 Litre Get 1 Litre Free
Brand: Shamrock Overseas Limited
Categories: Insecticides/Pesticides, Sticking Agent,
Availability: In Stock
Cash on delivery Availability: NO
Price:
Rs 2,900.00
Rs 1,067.00
This product has a minimum order quantity of 5
Super Shot 1 litre
Silicon Based Sticking Wetting, Spreading and Dispersing Agent

Description:
Super Shot -Silicon Based Wetting, Spreading & Dispersing Agent. Super Shot is for use with Herbicides, Insecticides, Fungicides and Miticides as a spreading, depositing and sticking agent.
Silicon Based Noniconic Spreader

Breaks down waxy cuticle on leaf surface and improves adhesion of spray ,material on leaves.

When used through drip, ensures dispersion of nutrients in soil.

Increases crop's resistance to mites and thrips attach.

Dosage:
Foliar Spray: 40-60 ml in 200 litre of water.
Drip: 100 ml / acre

Nett. weight: 1 Litre

Manufactured by: Alfa Crop Science Pvt. Ltd.

Click here to see Guarantee / Warranty of this Product.