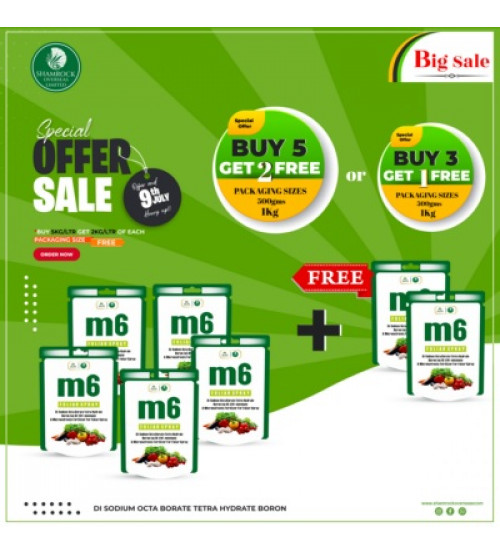 Shamrock Boron 1 Kg (Buy5kgGet2kgFree)
Buy 5 Kg Get 2 Kg Free
Brand: Shamrock Overseas Limited
Categories: Fertilizers, Micronutrients,
Availability: In Stock
Cash on delivery Availability: NO
Price:
Rs 800.00
Rs 522.50
This product has a minimum order quantity of 5
Shamrock Boron 1 Kg
M6 – Boron Micronutrient Fertilizer
Technical Name: Di Sodium Octa Borate Tetra Hydrate As Water Soluble Boron (B) 20.0% Minimum
Foliar Spray
1 Kg Box Packing
Description:
m6 (Boron Micronutrient Fertilizer) contains water soluble Di Sodium Octa borate Tetra Hydrate as Water Soluble Boron (B) 20.0% minimum. m6 is an efficient Boron Micronutrient fertilizer to correct Boron deficiency in soils and crops.
Dosage:
Foliar application of 0.1 to 0.15% solution (1 to 1.5 g/l of water) during critical growth stage.

Dissolve 200 grams of m6 in 150-200 litres of water snd spray over one acre of crop.

Higher or Lower concentration can also be used depending on the nature of crops and their requirements.

Give 2 to 3 sprays at 15 to 20 days interval at flowering/fruit setting stage.

M6 is also suitable for soil application, either through direct application or by mixing in water.
Nett. Weight: 1 Kg
Imported & Packed By: Shamrock Overseas Pvt. Ltd.
Click here to see Guarantee / Warranty of this Product.