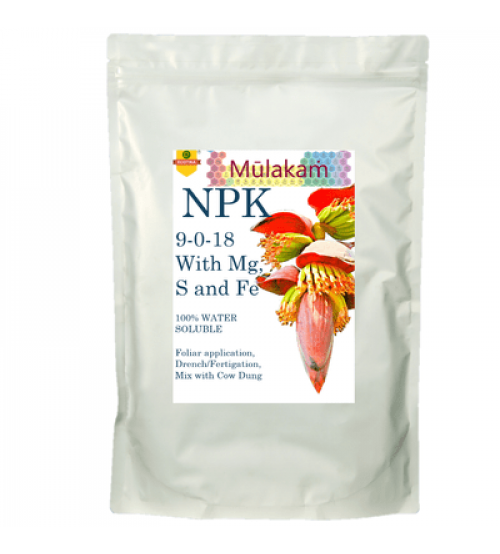 Ecotika N:P:K 9:0:18 with Magnesium, Sulphur & Iron 1 Kg
Brand: Ecotika
Categories: Fertilizers, N.P.K. (Water Soluble),
Availability: In Stock
Cash on delivery Availability: NO
Price:
Rs 350.00
Rs 325.00
This product has a minimum order quantity of 2
Ecotika N:P:K 9:0:18 with Magnesium, Sulphur & Iron 1 Kg
Description:
Water-soluble NPK fertilizer 9-0-18 with Magnesium, Sulphur, and Iron is designed for Fruiting trees like Citrus, Guava, Banana, etc.

Key Benefits:
Helps increase the Brix index in fruits. Increased Brix index means increased flavor, natural sweetness, and increased size.

The product is designed to increase photosynthetic efficiency. An increase in photosynthetic efficiency helps get more yield.

Improves the overall health of plants and the quality of fruit and also helps to increase shelf life without refrigeration of fruits.

Suitable for Foliar application @ 1%, Drench @ 2% and can also be mixed with cow dung @ 2% for soil application.

1 Kg is enough to prepare 100 Liters of spray solution, 50 Liters of drench, and 50 Kg blended with Cow dung.

Net Weight: 1 Kg

Manufactured, Packed & Dispatched by: Ecotika