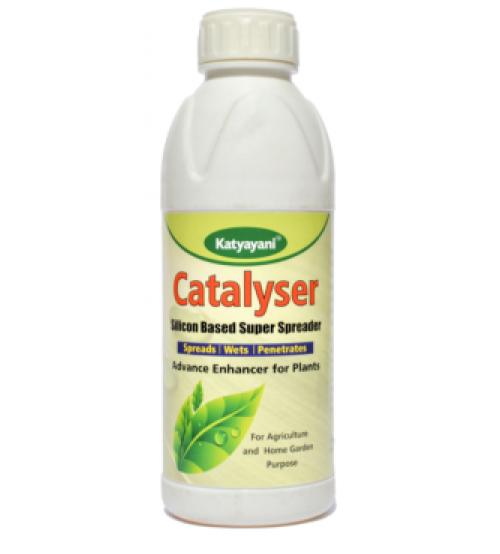 Katyayani Catalyser - Silicon Spreader 250 ml
Brand: Katyayani Organics
Categories: Insecticides/Pesticides, Sticking Agent,
Availability: In Stock
Cash on delivery Availability: NO
Price:
Rs 839.00
Rs 345.00
Katyayani Catalyser - Silicon Spreader 250 ml
Description:
Katyayani Catalyser Contains a New Generation High-Quality Concentrated Silicone Super Spreader with its 4 in 1 Action designed for all types of plants For Agriculture Use & Home Garden purposes.

Catalyser is used along with Fertilizers, Pesticides, Herbicides Plant Growth Regulators & all other Foliar Sprays which drastically improves the efficiency/performance of their Spray Solutions.

Because of its 4 in 1 Action of Spreader Adjuvant Activator & Rainfastener helps in increasing crop production and improving Crop yield, reducing Loss of nutrients and Resulting in Higher survival Rates.

This is a natural source of silica and it is having 40-50% Silicon content.it Increases the activity of certain herbicides, especially those applied to emerging weeds. The thorough wetting action provided by surfactants in Catalyser helps improve the performance of post-emergent herbicides, insecticides, and fungicides.

Dosage:
Take only 5 ml of Catalyser Sillicon Super Spreader in 15 Liter of Water. Used as a tank mix for agriculture use.
For Home Garden take 0.3 ml per 1 Liter of water.

Nett. weight: 250 ml

Manufactured, Marketed, and Dispatch by: Katyayani Organics