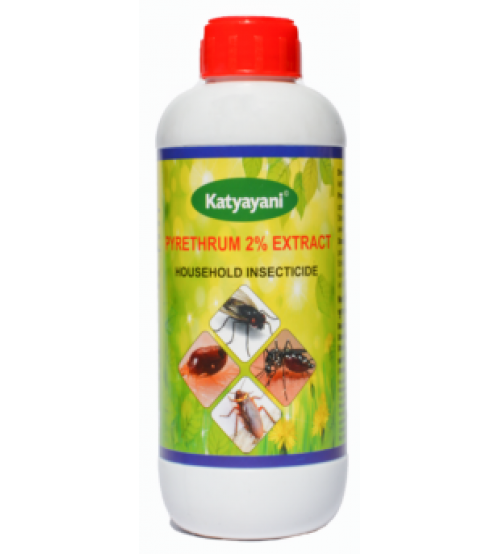 Katyayani Pyrethrum - Pyrethrin 2% 1 litre
Brand: Katyayani Organics
Categories: Insecticides/Pesticides, Pesticides & Insecticides,
Availability: In Stock
Cash on delivery Availability: NO
Price:
Rs 3,800.00
Rs 1,191.00
Katyayani Pyrethrum - Pyrethrin 2% 1 litre
Description:
Pyrethrum Extract 2% m/m is now the most widely used herbal insecticide for the control of public health pests by mixing with either diesel oil or kerosene as a space spray.

Features:
The only natural insecticide used for fogging in India and abroad.

Pyrethrum Extract 2% is an oil-based concentrate containing 2% m/m pyrethrins to be diluted in diesel/ kerosene/ petroleum solvent in a ratio of 1:19. Broad-spectrum activity against a variety of household insects such as mosquitoes, flies, cockroaches and bed bugs, etc.

Low mammalian toxicity. Biodegradable and environment friendly, making it the most preferred choice in public health, indicating more safety for humans, pets, and cattle.

Method of Application:
Pyrethrin is very effective for the control of mosquitoes, Bedbugs, Flies, Cockroaches, ants, moths, flies, fleas, and many other insects. It is used as a fogging chemical or directly sprayed by mixing it with water for indoors & outdoor areas in your house, garden, lawn & for Agricultural Purposes.

​

For Fogging: Pyrethrum Extract 2% should be diluted with kerosene or diesel in the ratio of 1:15 and applied as a thermal fog or ultra-low volume aerosol spray. For Domestic Use: it can be directly sprayed by mixing it with water in an appropriate Dose.
Marketed & Dispatched by: Katyayani Organics
Click here to see Guarantee / Warranty of this Product.