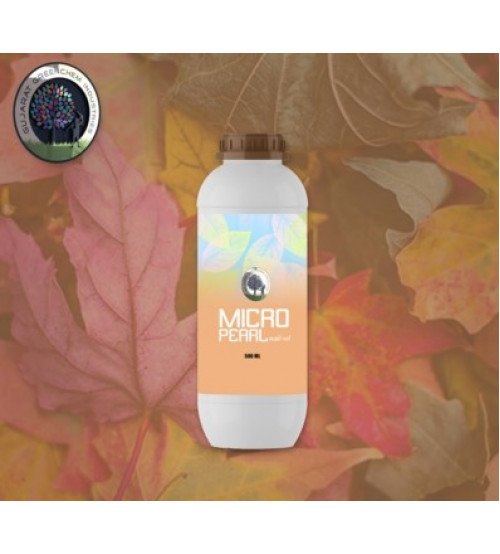 Micro Pearl - 500 ml
Brand: Gujarat Greenchem Industries
Categories: Bio Products, Plant Growth Promoter,
Availability: In Stock
Cash on delivery Availability: NO
Price:
Rs 510.00
Rs 280.00
Micro Pearl 500 ml
Composition: 20% Dry basis total dissolve solid agro chemicals w/w to prepare 100% Net formulation, which includes Micro Elements like Zinc, Iron, Copper, Manganese, Molybdenum, Boron, etc.

Soil, Roots and Plant Benefits:
Triggering rooting resulting in increased nutrient uptake

It is a chelating agent and disease suppressant.

Greater resistance to stress and adverse environmental conditions

It maintains overall plant growth, stimulates plant enzymes.

Accelerate seed germination
Leaf & Fruit benefits:
Healthier foliage and fruit appearance

Thicker, enlarges and balances the leaf growth

Stimulates cell division, and improve the fruit set and blossoming
Dosage:
Drip Irrigation: 300-400 ml Per Acre

Seed Treatment: 1-3 ml / 1 Kg of seed

Application: 400 gram per acre in difference of every 15 days stating from seed to fruit stage.

Composition: Micro Nutrients, Macro Nutrients, Humic Acid, Alginic Acid, Fulvic, Micro Elements, Minerals: Traces, Growth Promoter: Traces

Net Content: 500 ML

Manufactured, Packed & Dispatched By: Gujarat Greenchem Industries
Click here to see Guarantee / Warranty of this Product.