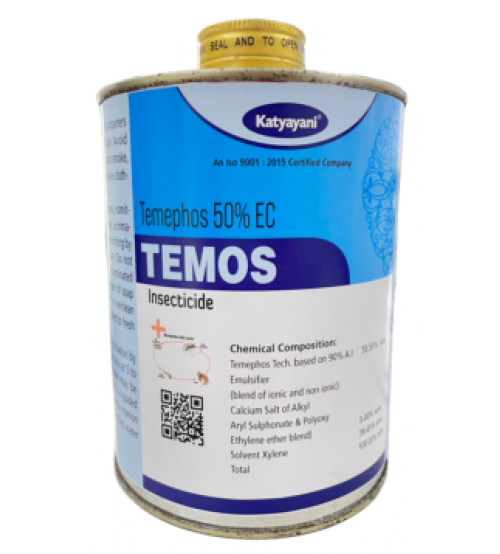 Katyayani Temos - Temephos 50% EC 1 Litre
Brand: Katyayani Organics
Categories: Insecticides/Pesticides, Pesticides & Insecticides,
Availability: In Stock
Cash on delivery Availability: NO
Price:
Rs 2,305.00
Rs 1,469.00
This product has a minimum order quantity of 100
Katyayani Temos - Temephos 50% EC 1 Litre
Technical: Temephos 50% EC
Substance group: Organophosphate
Product type: Insecticide, Veterinary substance
Mode of action: Non-systemic. Acetylcholinesterase (AChE) inhibitor.
1 Litre Bottle Packing
Introduction:
Katyayani Temos, Temephos 50% EC is an organophosphate insecticide that is very effective for the control of mosquito larvae. It is also used for the control of some major arthropod vectors of human diseases, including cyclops spp., the vector of guinea worm diseases (Dracunculiasis) and nuisance insects.
Temos is very safe for Human and other non-target animals That has led to WHO and NVBDCP recommendations for its use in potable water.
Treatment area: Open water, swamps, marches etc with low organics contents. Heavily polluted water with high organic content or vegetative cover is dense, small area treatment.Lakes, pond,drainage, ditches and other mosquito breeding areas.
Dosage: 1.5 - 2 ml per Litre water. Repeat as necessary. Pour required amount of Temephos in to water stirring constantly use sufficient water for good coverage for any other purpose. Can be applied by air / ground equipment use sufficient water to give good coverage. Detailed Instructions to Use are available in Leaflet that is Provided with the Product
It acts as a contact poison. Once applied to the breeding site, it spreads well within the water body. It remains effective for one week.
Safety: Temos EC is very safe for humans and other non-target animals.

Recommendations from Central Insecticides Board & Registration Committee:
Regime of application
Common name of pest
Dosge/ hectare
Waiting period (days)
Formulation
(ml)
Mosquito larval treatment area, ponds, swamps, drainage, ditches, canals and other, Breeding areas.
Mosquitoes larvae
75 - 250
200



Marketed & Dispatched by: Katyayani Organics

Click here to see Guarantee / Warranty of this Product