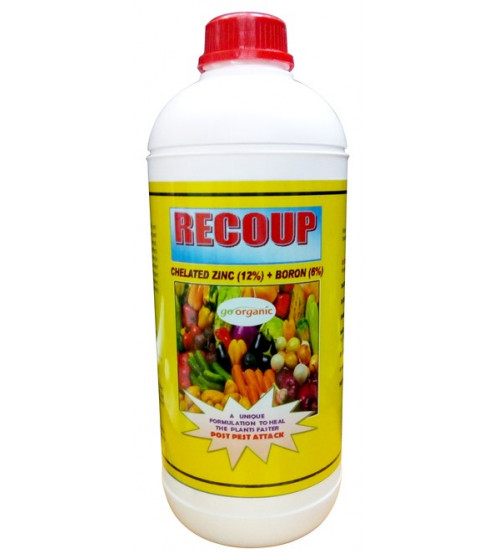 Recoup (12% Chelated Zn + 6% B) 500 ml
Brand: Gassin Pierre Pvt. Ltd.
Categories: Fertilizers, Micronutrients,
Availability: In Stock
Cash on delivery Availability: NO
Recoup (12% Chelated Zn + 6% B) 500 ml
Product Description:
​
An excellent combination of chelated Zinc (12%) and Boron (6%) to counter act the toxic effects caused by the Helopeltis attack on tea bushes and to promote a new flush within a short period.
Compatibility: -
It is compatible with most pesticides.
General Utility: -
Boron deters the sucking insects and also neutralizes the toxic effects caused by them. It is a micronutrient and has a unique character for repairing damaged tissues. Even during heavy rains, the plants deplete in Amino acids & Auxins and this deficiency is recovered by
RECOUP
.
Zinc is an essential micronutrient that helps plants to produce Indole Acetic Acid (I.A.A) which is a plant growth hormone. This hormone causes the rapid growth of new leaves. Zinc also plays an important role in protein synthesis enzyme activity, hormonal activities, and sugar metabolism.
As such when RECOUP is sprayed along with any recommended pesticides against Helopeltis, Helopeltis cannot attack in those areas anymore at least for 15-20 days.
It is advised that if the Helopeltis attack is severe, then slash the black shoots lightly and then spray RECOUP @350ml plus Thiamethoxam @100ml per 200 liters of water by thoroughly drenching the bushes. Repeat the same spray after 10-12 days.
Dose and time of spray:-
350 ml / ha
Spraying should be done post Helopeltis attack for early recovery
Spraying may be done post heavy rains as this contains Photosynthetic pigment as well.
Net Volume: 500 ml

Manufactured, Packed & Dispatched by: Gassin Pierre Pvt. Ltd.