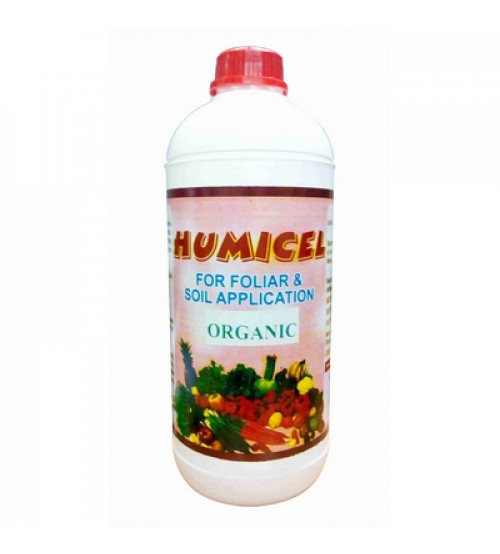 Humicel - For Foliar & Soil Application 1 Litre
Brand: Gassin Pierre Pvt. Ltd.
Categories: Bio Products, Plant Growth Promoter,
Availability: In Stock
Cash on delivery Availability: NO
Humicel - For Foliar & Soil Application 1 Litre
Description:
BENEFITS FROM HUMICEL:
General:
a) It supplements Humic and related acids to plants or soils.
b) It acts as a growth stimulant by unlocking and / or chelating major & minor nutrients.
c) In the absence of chelates in the soil Humicel acts as Chelating Agent.

Effects on plants:
a) It helps in forming excellent growing conditions for roots & shoots.
b) It helps in elongation and overall development of root system.

GUARANTEED ANALYSIS: Humic & related acid 12%

CROP:
Apples, Almonds, Alfa alfa, Mango, Grapes, Water Melon, Pomegranates, Citrus, Peanuts, Pineapples, etc

Potatoes, Turnips, Soyabeans, Cabbage, Cauliflower, Lettuce, Carrots, Tomato, Paddy, Wheat, Barley, Maize, Sweet Corn, Capsicum, Peppers.

Ornamental & Aquatic plants.
RECOMMENDED DOSE: 0.5L/Ha.

TIME OF APPLICATION:
i) Following each soil application of Macronutrients.
ii) Incorporate with each foliar nutrient program.

AREA OF APPLICATION: For root elongation dip root in a solution of 10ml in 1 Litre of Water.

NURSERY - For Root Elongation
Spray in combination of Green Cal_Bo

WARRANTY: Since the use of this product is beyond our control we cannot assume and any responsibility other than uniform quality of the product.
CAUTION: Harmful if swallowed. Avoid breathing the spray-mist. Avoid contact with eyes, skin or clothing.
Keep out of reach of children.
Net Volume: 1 Litre
Manufactured, Packed & Dispatched by: Gassin Pierre Pvt. Ltd.