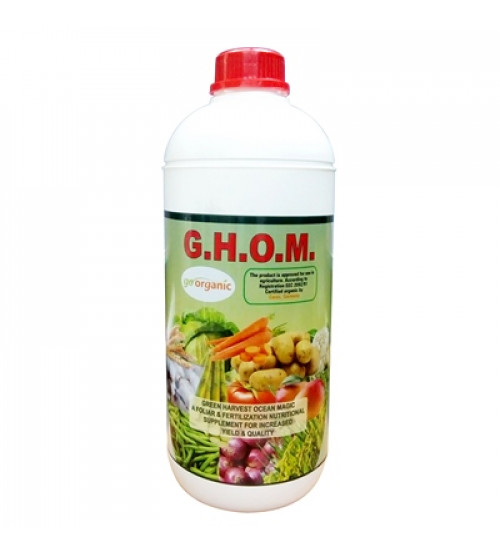 GHOM (Green Harvest Ocean Magic) 500 ml
Brand: Gassin Pierre Pvt. Ltd.
Categories: Bio Products, Bio Fertilizer,
Availability: In Stock
Cash on delivery Availability: NO
Price:
Rs 935.00
Rs 850.00
GHOM (Green Harvest Ocean Magic) 500 ml
Description:
G.H.O.M. is derived from fresh sea weed. It is a natural store house of over 60 naturally occurring MAJOR and MINOR nutrients, Carbohydrates, Amino Acids, and natural plant growth promoting substances with enhance crop yields, quality, vigour.

GENERAL BENEFIT:
Encourages fruit setting, increases marketable yield, delays crop degradation & prolongs the shelf life of harvests.

Helps in better root-shoot ratio & efficient uptake of water & nutrients.

Imparts resistance in plants against pests like Mites, Thrips etc., Fungal diseases like Mildews, Botrytis, Damping off.

Contributes to greater Microbial activity in the soil thus increasing total nutrient availability.

Accelerates & improves the development of healthy root system.

Sugar alcohols in it serves as osmoticum against water loss.
UTILITY:
Foliar supplement of natural plant food.

Root Dip or Seed Inoculant

Soil Conditioner

COMPATIBILTY:
G.H.O.M. is compatible with insecticides, fungicides & fertilizers.

CROP:
Beans, Potato, Carrots, Tomato, Onion, Paddy, Wheat, Maize, Capsicum, Peppers, Apples, Mango, Grapes, Water Melon, Peaches, Sugarcane, Oranges, Pears, Plums, Prunes, Citrus,

Ornamental & Aquatic plants.
RECOMMENDED DOSE:
Vegetables – 0.6L- 0.75L/ Ha

Fruits – 0.6L-1.5L/Ha

Field Crops – 1L/Ha

Ornamental & Aquatic – 0.6L – 1L/Ha

Others – 0.5L/Ha

DIRECTION FOR USE:
G.H.O.M. is water soluble & suitable for use in conventional liquid foliar & irrigation water application.

WARRANTY:
Since the use of this product is beyond our control we cannot assume and any responsibility other than uniform quality of the product.

CAUTION:
It is a natural product which contains no preservative hence its shelf life will diminish after it has been mixed with water.
Harmful if swallowed. Avoid breathing the spray-mist. Avoid contact with eyes, skin or clothing.
Keep out of reach of children.

Net Volume: 500 ml

Manufactured, Packed & Dispatched by: Gassin Pierre Pvt. Ltd.